[Workbook No 1]
Barring childhood scribbles, this is the very first work signed Ingmar Bergman.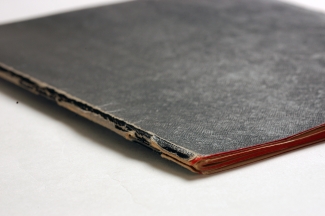 About the text
There are a number of script drafts to be found here with titles like "Judas" and "Family Idyll" (the origin of Bo Dahlin's Anteckningar, and later Last Couple Out), as well as working notes on Outward Bound and musings on lighting. That the title "A Peculiar Tale" calls Edgar Allen Poe to mind is no coincidence: it is here that Death makes his first entrance in Bergman's oeuvre. The following is an excerpt from the ironically-titled "Family Idyll:"
"The boy had been at the movies all evening. When he came home, he heard Mother and Father speak with loud voices. He'd never heard them that way before."
F:094
[53] p. ; 21 x 17 cm
Black notebook written with ink and pencil. Many loose pages. Different drafts: "Family idyll" 7 pp; notes on "Outward Bound" and "Thoughts on lighting" 20 pp; "A strange story" 11 pp; "Judas", 7 pp; as well as several fragments. On inside of cover: "To my Babs!", dated Smådalarö 15 June 1938, "Ingmar".