Yvonne, Princess of Burgundy (Prinzessin von Burgund)
Not until this, his fifth production in Munich, did Bergman manage to woo the German critics.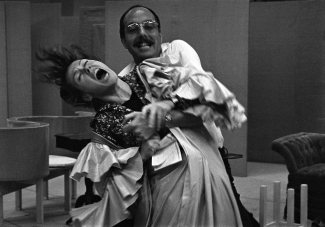 'A chilling, comical interpretation of human vanity in its most bitter form...'

Dietmar N Schmidt, Frankfurter Rundschau
Reviews and comments
Through his previous Munich productions, Bergman had established himself as a psychological stage realist. It was a professional persona considered a bit conventional; in the words of Gerhard Pörtl, 'the man from Sweden has not seemed eccentric enough'. Bergman's staging of Yvonne...was however more of 'a bravura staging'; in fact, several critics termed the Gombrowiez production Bergman's best work in Munich, with excellent instruction of the actors.
Sources
The Ingmar Bergman Archives.
Birgitta Steene, Ingmar Bergman: A Reference Guide, (Amsterdam University Press, 2005).
Collaborators
Andrea-Maria Wildner

, Yvonne

Klaus Guth

, King Ignacy

Gaby Dohm

, Queen Margareta

Robert Atzorn

, Prince Filip

Hans Zander
Rita Russek

, Iza

Erich Hallhuber

, Cyril

Ingmar Bergman

, Director

Heino Hallhuber

, Choreography

Johannes Kaetzler

, Assistant director

Gunilla Palmstierna-Weiss

, Designer

Heidi Scherer

, Prompter

Heinrich Kunstmann

, Translation

Reinhard Hempelt

, Stage manager

Rudolf G. Knabl

, Music

Witold Gombrowicz

, Author