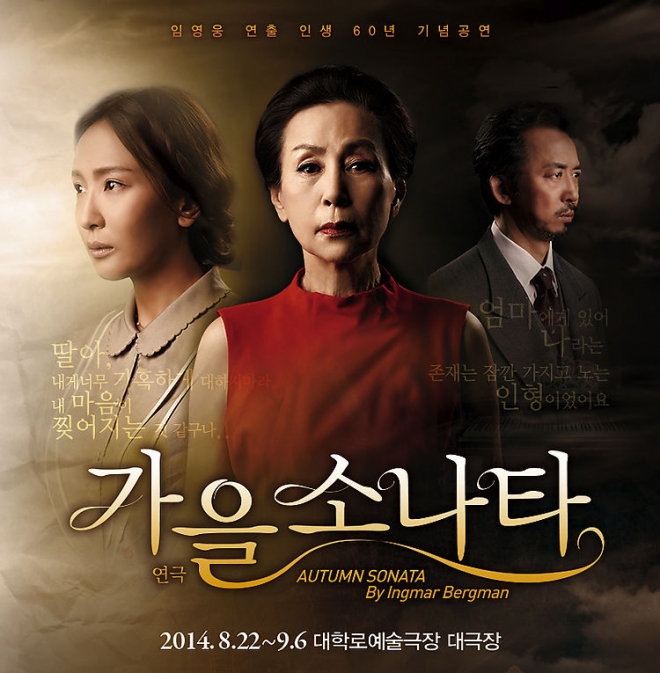 About the production
The play was selected to commemorate the sixty years as a stage director of the renowned Young-woong Lim. In an interview, he expressed his desire to convey sincere consolation to modern people who might be suffering isolation by bringing a hope of reconciliation.
[[nid:21979; styleName:teaser; styleName:teaser]]
Charlotte's expressed feeling towards Eva that she never wanted to be a mother, had specifically strong resonance in Korea, where the social conventions of motherhood is very strong, and mothers are expected to sacrifice themselves to their children. This is reflected in the press reactions, where the play was described as "shocking" to the audience. As one newspaper put it:
Watching the play, the audience went through a breath-taking time arousing their sympathy and breaking the stereotype of the mother's role. The audience not only sympathized with the daughter's longing for her mother's love, but was also immersed in the mother's pain of taking on her heavy role.
For the same reason, at least one newspaper was sceptical of the play, calling themes of adultery, teenage pregnancy and abortion "difficult" for a Korean audiences,and  "contrasting" with their "fundamental cultural sentiment".
[[nid:21980; styleName:teaser; styleName:teaser]]
Another approach among the critics was to compare the directing styles of Bergman and Young-woong Lim, concluding that both were great. Whereas the film relies heavily on close-ups conveying the characters' feelings, the stage version captures every tiny gesture and tone of voice of the actors.
[[nid:21981; styleName:teaser; styleName:teaser]]
The set design, by artist Dong-ho Park, was particularly mentioned as well, and praised for its autumnal feeling. The two-story house conveyed a different air on each floor: the first story full of joy when Eva is awaiting her mother; the second floor reflecting the fear and anxiety of the endless argument between the mother and  daughter. The many picture frames of the set was commented by Park, saying that "A picture in a frame symbolizes the memory of the past. I intend to express old wounds with picture frames piled up."
The play was performed from 22 August to 6 September 2014.
Note: Our heartfelt thanks to Hyun-jung Bak, Director of Press, Culture and Information at the Swedish Embassy in Seoul for summarizing the press coverage for us.
Sources
http://www.koreapac.kr/Pages/Main.aspx
Collaborators
Ingmar Bergman

, Text

임영웅

, Director

손숙, 서은경, 한명구, 이연정

, Cast