Fårö
Fårö is a small, 113 km-square, island in the Baltic Sea, linked by ferry to its larger neighbour, Gotland. Its landscape is distinctive: the entire island is made up of limestone rock, with areas of agricultural land interspersed with areas of shrubland.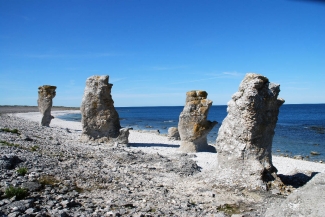 Before his arrival on Fårö, Ingmar Bergman was somewhat sceptical. Looking for a location to shoot Through a Glass Darkly, he had decided that the Orkney Islands might be suitable. His production team dismissed his idea as too expensive, suggesting that Bergman ought at least to take a look at Fårö, a place he had never previously visited. His encounter with the island was life-changing. "If one wished to be solemn, it could be said that I had found my landscape, my real home; if one wished to be funny, one could talk about love at first sight." Including Through a Glass Darkly, Bergman was to shoot six films and one television series on Fårö.
He also made two documentary films about the island and its inhabitants: Fårö Document and Fårö Document 1979. When filming Persona he discovered an area of land that he subsequently purchased and built a house on. He stayed there as often as his Stockholm duties would allow until 2003, when he sold his apartment in Stockholm and moved permanently to Fårö. He has very seldom left the island ever since. In the early 1970s Bergman almost realised his plans to build his own film production centre on Fårö, but those plans were thwarted by the highly-publicised trouble he had with the tax authorities which forced him into exile. He did, however, build a fully functional studio there, where Scenes from a Marriage was filmed.
The films which make the most expressive use of the distinctive Fårö landscape are Through a Glass Darkly, Persona, Shame and A Passion. The barren, stony landscape framed by the Baltic Sea, has often been regarded as a metaphor for some of his characters' inner emotional states.

When Bergman first came to the island he felt he had found his real home.
The first was intuitive. This is your landscape, Bergman. It corresponds to your innermost imaginings of forms, proportions, colors, horizons, sounds, silences, lights and reflections. Security is here. Don't ask why. Explanations are clumsy rationalizations with hindsight. In, for instance, your profession you look for simplification, proportion, exertion, relaxation, breathing. The Fårö landscape gives you a wealth of all that.
Ingmar Bergman died in his home at Fårö on July 30, 2007, at age 89.