Skåne (Scania)
Skåne is Sweden's most southerly county: rich in fertile agricultural land, it enjoys a considerably milder climate than the northern parts of the country. Within a relatively small area lie two of Sweden's major cities, Malmö and Lund, and in between them the landscape is predominantly flat and open.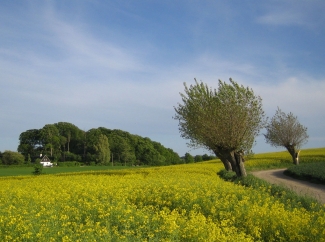 Ingmar Bergman lived in Skåne between 1944 and 1946, when he was director of the Hälsingborg City Theatre. After a period at the Gothenburg City Theatre he returned to the area as the director of the Malmö Municipal Theatre from 1952 to 1959. Unlike Stockholm and Dalarna, Skåne held no deep-rooted ties for Bergman: if indeed he did visit the region as a child, the visit was nothing more than fleeting. Yet Skåne did come to mean a great deal to him. His work at the two theatres was highly successful, especially in Malmö, where he formed links with some of the actors who would become the backbone of his ensemble: Bibi Andersson, Max von Sydow, Ingrid Thulin and others.

There are three films in particular in which Skåne features large: Sawdust and Tinsel, Smiles of a Summer Night and The Seventh Seal. The broad horizons of Skåne appear to have inspired Bergman to the many images of small figures set in silhouette against an open landscape in his films from the fifties, the most famous example being the 'Dance of Death' from The Seventh Seal.

Skåne's coastline is used both in the famous reminiscence scene at the opening of Sawdust and Tinsel (shot in the area around Arild) and in the even more famous scene in which the knight plays chess with Death in The Seventh Seal (a scene shot at Hovs Hallar). With its pebble beaches, Skåne is also reminiscent of Fårö, the preferred setting for many of Bergman's later films.
Even though The Magician was entirely shot in studio, the film clearly bears influences from the Skåne landscape. The use of silhouettes, as in The Seventh Seal, is apparent once again, and this stylistic device (which he subsequently abandoned) is closely associated with Bergman's life in Skåne.