Autumn Rhapsody/The Romantics
The author of Autumn Rhapsody, Doris Rönnqvist, was a member of Mäster Olofsgården's theatre section.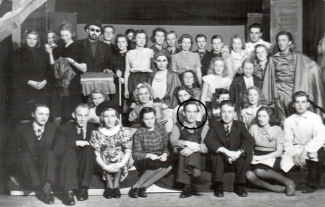 'Now that was a real EVENING OF THEATRE!'

Gunnar Ollén in SFP-bladet
About the production
The first play in this double bill, The Romantics, was referred to as 'a little skit to warm up the public for Autumn Rhapsody'.
Ingmar Bergman announced the production to be the first comedies staged at Mäster Olofsgården. He also pointed out that the theatre section was now self-supporting and had its own composer and scenographer, as well as its own costume shop, programme printer and photographer.

Gunnar Ollén called Ingmar Bergman a genuine theatre director and the performance:
A great and emotionally gripping evening. Not an evening when you merely applaud politely [...] No, one of those precious moments in the history of our theatre when the applause came from the heart and not from biased fathers, mothers, girlfriends.[...] Such an evening is a triumph!
Sources
The Ingmar Bergman Archives.
Birgitta Steene, Ingmar Bergman: A Reference Guide (Amsterdam University Press, 2005).
Collaborators
Gun Öijerholm
Arne Palmquist
Gunnel Wiklund
Maud Sandwall
Curt Edgard
Ingrid Sandström
Ingrid Lien
Sture Djerf
Lennart Lindberg
Doris Rönnqvist

, Author "Autumn Rhapsody"

Edmond Rostand

, Author "The Romantics"

C. Thorsell

, Costume design

Ingmar Bergman

, Director

Ruben Zehlen

, Designer