Bluebird
The third piece staged at Sagoteatern, during the autumn of 1941, gave the audience just what it wanted.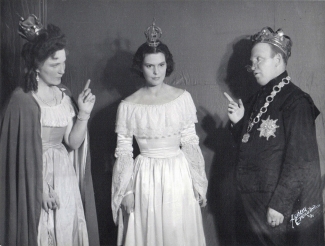 'Quite an enchanting little performance.'

Nils Beyer, Social Democrat
About the production
Set designer was Else Fisher, who was to become Bergman's first wife.
The Blue Bird is a French literary fairy tale by Madame d'Aulnoy, published in 1697. This is the story of a prince who is turned into a bluebird by an evil godmother. Through his lover's efforts, he regains his true identity. 
Collaborators
Carl Cramér

, Guido

Marianne Lenard

, Sibylla

Birgitta Arman

, Princess Florinna

Karin Lannby

, Princess Forella

Curt Norin

, Prince Amundus

Karl-Axel Forssberg

, Holofernes

Margareta Sjögren

, Sysis

Börje Herner

, Deoletus

Gittan Söderlund

, Rosa

Gudrun Ekberg

, Lila

Gunnel Hansson

, Viola

Maud Hyttenberg

, Wet nurse

Zacharias Topelius

, Author

Else Fisher

, Choreography

Rune Ede

, Music

Ingmar Bergman

, Director

Gunnar Lindblad

, Designer