Cat on a Hot Tin Roof
With this popular work by Tennessee Williams and a star cast, Bergman's production was met with public success.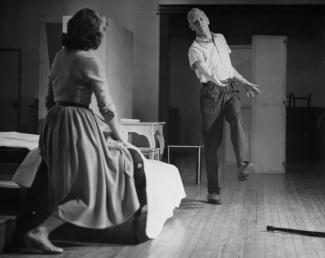 'Ingmar Bergman has proven himself the master of the Large Stage.'

Lars-Levi Læstadius, Director of Malmö City Theatre
About the production
Williams' play was presented on four different stages in Sweden in 1956. The most notable features in Bergman's production were his strong focus on the father-son conflict; his interpretation of Brick, the son and husband cripple without any charm; and his total unmasking of all the characters, ending in their complete loss of illusion, without any trace of the happy ending that was presented in the original Broadway production.
In a comparison between the different Swedish productions of Williams' play, Berman's presentation received the most glowing reviews. 'Malmö had a secret weapon: it is Ingmar Bergman. One is vanquished, happy, joyful. The whole performance was strict and feverish, it was a sexual trench war but even more a tragedy of loneliness. As the curtain came down, a great liberated jubilation burst forth from the Malmö audience. With that jubilance one greeted a masterpiece.'
Sources
The Ingmar Bergman Archives.
Birgitta Steene, Ingmar Bergman: A Reference Guide (Amsterdam University Press, 2005).
Collaborators
Eva Stiberg

, Margaret

Max von Sydow

, Brick

Benkt-Åke Benktsson
Lisa Lundholm
Harriet Hedenmo

, Mae

Nils Eklund

, Gooper

Gustaf Färingborg
Nils Nygren

, Doctor Baugh

Lenn Hjortzberg

, Lacey

Ulla Rodhe

, Sookey

Mimmo Wåhlander

, Dixie

Tennessee Williams

, Author

Ingmar Bergman

, Director

Härje Ekman

, Designer