Max von Sydow
One of the best-known Swedish actors from the Post-War period, von Sydow played the lead in several of Ingmar Bergman's film and stage productions between 1955 and 1972.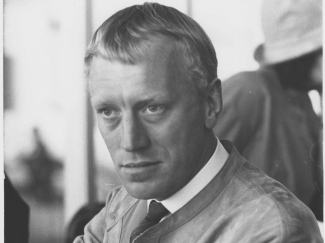 Max von Sydow
One of the best-known Swedish actors from the Post-War period, von Sydow played the lead in several of Ingmar Bergman's film and stage productions between 1955 and 1972.
'He controls his demons with the utmost degree of discipline; never allowing them to roam free in his private life, only unleashing them on stage.'

Ingmar Bergman
About von Sydow
Born Carl Adolf von Sydow on 10 April 1929 in Lund in southern Sweden, he was the only child in father Carl Wilhelm von Sydow's second marriage. His father was a professor of ethnography at Lund University and his mother was a grammar school teacher. 
At the age of 15, von Sydow attended a performance of William Shakespeare's A Midsummer Night's Dream at the newly opened Malmö City Theatre. Being inspired by this experience, he started amateur theatre company Scenia with a few of his friends, and they staged plays by August Strindberg, Pär Lagerkvist and Hjalmar Bergman. 
After completing military service, where he adopted the name Max after a flea in a flea circus, von Sydow attended the Royal Dramatic Theatre's acting school from 1948 to 1951, where he studied alongside the likes of Lars Ekborg, Margaretha Krook and Ingrid Thulin.

Royal Dramatic Theatre director Alf Sjöberg cast von Sydow in his first film role in 1949's Only a Mother. Von Sydow had already sought out a film role during his first year in Stockholm, upon hearing that Ingmar Bergman was looking for an extra to play the part of a policeman in Prison. When von Sydow rang the director and asked if he could play the part, Bergman brushed him aside with a brusque no.
After graduation, von Sydow worked on a number of Swedish films and acted at numerous city theatres (including Norrköping-Linköpings City Theatre, where Ingmar Bergman saw von Sydow in Tennessee Williams' The Rose Tattoo), before he was hired in Helsingborg. During his time in Malmö, Bergman often attended performances at the nearby Helsingborg City Theatre, and in 1955 he asked von Sydow to join the Malmö City Theatre acting company. They worked there together until 1960, when von Sydow moved to Stockholm and joined the Royal Dramatic Theatre. During this time, von Sydow acted in both supporting and lead roles in Bergman's winter stage performances and summer films. In an interview with Aftonbladet, Max von Sydow made the following comment on his roles from this period:
When I watch my old films, for example The Seventh Seal, I notice that I acted very theatrically. I have always been bothered by the way I recited my lines in this film. But then television suddenly arrived in Sweden and we were soon accustomed to realism, from news programmes, debate programmes, etc. There was also Method Acting from The Actors Studio, which managed to reach Europe from the US. Nowadays, theatre and film actors with theatrical backgrounds use another type of acting technique than the one we used in the 1940s and 1950s. Bergman's dialogue from that time was very stylised, which would have made it difficult for me to recite my lines in a realistic manner.  
Von Sydow went on to act in more films than theatre, and worked on an international front more than in Sweden. In Hollywood he regularly played one-dimensional outsiders and low-lifes, especially during the 1960s and 70s. During the mid-60s, von Sydow signed a contract with 20th Century Fox to make seven films in seven years, and as he could hardly play a convinceable American, he more often than not played the role of the strange foreigner (with the exception of George Roy Hill's Hawaii). He played a Nazi on more than one occasion, first in Michael Anderson's The Quiller Memorandum in 1966 and later in John Huston's Victory. His most popular roles during his first 10 years as an international film star were in William Friedkin's The Exorcist and Sydney Pollack's Three Days of the Condor. He turned down the role of Captain von Trapp in The Sound of Music, which went to Christopher Plummer.
Von Sydow moved to Rome in the mid-70s, and worked from Italy for a number of years. In the 1980s, von Sydow made a temporary move to Scandinavian film and in 1989 he was nominated for an Oscar for his role as Lassefar in Bille August's Pelle the Conqueror, a film he considered the highlight of his career. His directorial debut came in 1988 with the screen adaptation of Herman Bang's novel (Katinka) Ved Vejen. He was intended for the role of the bishop in Fanny and Alexander, but allowed his agent to negotiate for a preposterously high sum and the role instead went to Jan Malmsjö. Von Sydow later referred to this as one of the biggest mistakes of his career. In addition to his film work, he returned to the stage in the 1980s, playing Prospero in Shakespeare's The Tempest at the Old Vic in London, and Gert Bokpräntare in Strindberg's Master Olof at the Swedish Royal Dramatic Theatre for the theatre's 200-year anniversary in 1988. 
Max von Sydow has been involved in around 120 films produced in a dozen different countries, and has worked with endless directors, including Jan Troell (their work together extends over 30 years and eight films), Francesco Rosi, Arturo Ripstein, Bertrand Tavernier, Andrej Kontjalovskij, David Lynch, Woody Allen, Lars von Trier, Wim Wenders and Steven Spielberg. He is the only actor to have ever played both Jesus (The Greatest Story Ever Told) and the Devil (Needful Things) on screen. 
Von Sydow has two sons, Claes and Henrik, with his first wife Christina Olin, whom he married in 1951 and divorced in 1979. He married French documentary filmmaker Catherine Brelet in April 1997.
Von Sydow on his relationship to Ingmar Bergman: 
We are friends. We have worked together extensively, both on stage and in films, most of which took place when we were both much younger. We were free, he was not yet world-renowned and I was nothing more than a common theatre actor with a few film roles under my belt. We worked hard and enjoyed ourselves. I cannot say exactly what influence he has had on me but it must be significant.