Dom Juan
Towards the end of his exile in Germany, Bergman returned to Molières' play for the third time, and once again German critical feedback wasn't entirely glowing.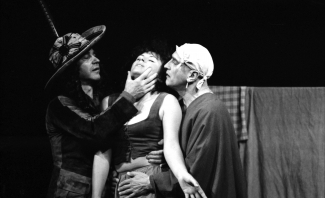 'A tired old man walks over Molières' corpse.'

Armin Eichholtz, Münchner Merkur
About the production
This was Bergman's third production of Molière's play Dom Juan. The premiere took place at the Salzburg Festival in Austria, where Bergman was the big drawing card. To honor him a mini-retrospective of his films had been arranged concurrently. The opening night of Dom Juan occurred however on the hottest day of the summer. Bergman fell ill and cancelled his scheduled appearance. Three months after the presentation in Salzburg, the play opened the annual season in the Cuvilliés Theatre in Munich.
Bergman wanted to 're-theatricalize' Molière. Serving as Dom Juan's foil, sganarelle sometimes enacted Dom Juan's seductive desires while his master remained a vicarious voyeur.
Two important elements have been presented in most of Bergman's staging of Molière: first, an often brutal unmasking of human foibles; and, second, a farcical, stylized playfulness exposing the silliness of the characters but also revealing the production's reliance on slapstick and commedia dell'arte.
But the reviewers were bewildered by Bergman's approach. Was it a character study or a theatrical farce? 'It seems that Bergman has not been able to decide which Dom Juan he would stage'. (Rolf May) Not much was left of the traditional portrayal of Molière's Dom Juan as a demonic iconoclast; instead, the production was, said one reviewer, 'A play about male fantasies and male angst that only knows love as possession and booty'. (kr, Bayrische Staattszeitung)
When Bergman's production opened in Munich three months later, the critical reception was much more positive. One reviewer wondered if a difference in performance could simply be attributed to the weather (Armin Eichholz). Or could perhaps the stage be partly responsible? The Salzburg Landestheater had been a new performance area for Bergman and his all-Munich ensemble.
Sources
The Ingmar Bergman Archives.
Birgitta Steene, Ingmar Bergman: A Reference Guide, (Amsterdam University Press, 2005).
Collaborators
Hilmar Thate

, Sganarelle

Erwin Faber

, Gusman

Michael Degen

, Don Juan

Birgit Doll

, Donna Elvira

Gundi Ellert

, Charlotte

Erich Hallhuber

, Don Carlos

Klaus Guth

, Don Alonso

Franz Kutschera
Olivia Grigolli

, Mathurine

Franz Kollasch

, Mr Dimanche

Gerd Anthoff

, Pierrot

Gisela Scheidler

, Stills photographer

Molière

, Author

Hansgeorg Eder

, Stage manager

Rudolf G. Knabl

, Music

Wolfgang Kohl

, Musician (percussion)

Denis Werb

, Musician (trumpet)

Ingmar Bergman

, Director

Annette Gassman

, Assistant director

Gunilla Palmstierna-Weiss

, Designer

Svea Köller-Zweig

, Prompter

Heinz Schwarzinger

, Translation