Don Juan
This production was designed for Swedish high schools, with a great deal of emphasis put on slapstick elements focusing round Sganarelle who fled into the audience - both a traditional feature present in 17th-century versions of the play and a typical Bergman ploy to engage a young, unsophisticated audience.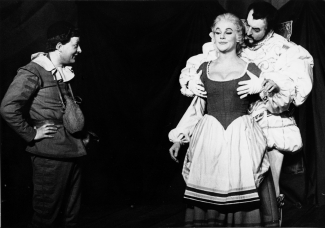 About the production
Bergman's second staging of Molière's play was more comical than the first, most likely due to the young audience it was presented to. Critical response was positive. 
The production was televised on educational TV on 17 March 1965. A TV programme about the production was broadcast on 26 February 1965.
Sources
Birgitta Steene, Ingmar Bergman: A Reference Guide, (Amsterdam University Press, 2005).
Collaborators
Ernst-Hugo Järegård

, Sganarelle

Einar Axelsson

, Gusman

Georg Årlin

, Don Juan

Kristina Adolphson

, Donna Elvira

Margaretha Byström

, Charlotte

Hans Strååt

, Don Carlos

Sven Nilsson

, Don Alonso

Ragnar Arvedson
Christina Frambäck

, Mathurine

Björn Gustafson

, Mr. Dimanche

Axel Düberg

, Pierrot

Åke Lagergren

, Francisque

Lenn Hjortzberg

, La Violette

Per-Olof Ekvall

, Ragotin

Mona Andersson

, The Prompter

Beata Bergström

, Stills photographer

Molière

, Author

Yngve Rundgren

, Stage manager

Arne Lundh

, Make-up and wigs

Ingmar Bergman

, Director

Sven Erik Skawonius

, Designer

Tor Hedberg

, Translation