A Dream Play (Ein Traumspiel)
Bergman kicked off his German exile with his third production in 14 years of Strindberg's A Dream Play, translated into German by Peter Weiss.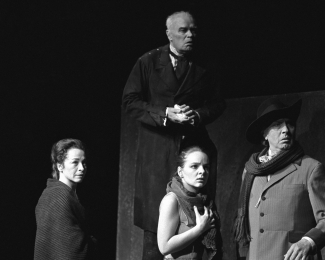 'In this variation on his Stockholm production, Ingmar Bergman dried out Strindberg's river of tears.'

Georg Henzel, Frankfurter Allgemeine Zeitung
About the production
Bergman's German production of A Dream Play used the same approach as his 1970 Royal Dramatic Theatre production. The poet sitting at his desk opened the play and presented it as a product of his imagination. At the end he remained alone on an empty stage. The approach anticipated such subsequent Bergman works as After the Rehearsal and Faithless, where his fictional self was to appear as a dreamer fantasizing about his own story.
Expecting a production that capitalized on the drama's metaphysical, surreal, and dreamlike qualities, the German critics who knew Bergman primarily as a filmmaker with a penchant for metaphysics were surprised by his realistic and text-oriented production and by mise-en-scene they ignored the rich imagery of Strindberg's play. German critics were used to reading the play in such a light: 'Bergman should have taken us further into the surrealism of dreams.' Although no critical success, Bergman's first staging in Munich was greeted with overwhelming applause by an audience paying tribute to their guest director, with a total of 34 curtain calls and with Bergman making a rare appearance on stage together with the ensemble.
Sources
The Ingmar Bergman Archives.
Birgitta Steene, Ingmar Bergman: A Reference Guide, (Amsterdam University Press, 2005).
Birgitta Steene, Ingmar Bergman: A Reference Guide, (Amsterdam University Press, 2005).
Berlin, Schiller Theatre, 4-5 May 1978
Bergman's Traumspiel production continued to disappoint the German reviewers.
Collaborators
Michael Degen

, Poet

Christine Ostermayer

, Agnes

Fritz Strassner
Kurt Meisel

, The officer

Lola Müthel

, The mother

Hans Quest

, The father

Annemarie Wernicke

, Lina

Anne Kersten
Max Eckard
Sissy Höfferer
Paul Bürks
Otto Bolesch

, The prompter

Dieter Brammer

, The policeman

Nikolaus Paryla
Anne Mertin

, Kristin

Toni Berger
Gerhard Garbers
Christine Buchegger
Heini Göbel
August Strindberg

, Author

Hansgeorg Eder

, Stage manager

Georg Morasch

, Stage manager

Heino Hallhuber

, Choreography

Herbert Baumann

, Musical arrangement

Ingmar Bergman

, Director

Klaus Dieter Oppitz

, Assistant director

Wolf-Dieter Müller

, Assistant director

Walter Dörfler

, Designer

Rose Machunze

, Prompter

Peter Weiss

, Translation