Due to Certain Circumstances
Open letter to the department store EPA.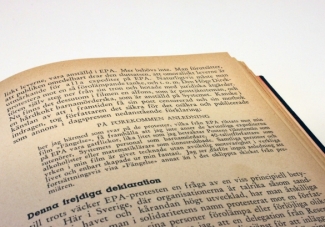 About the text
The department store had complained that the prostitute Birgitta-Carolina in Prison happened to be employed by EPA, in addition to her primary occupation.
Due to certain circumstances, namely the complaints raised by EPA against my film Prison, I would like to take the opportunity to state that I believe the female assistants employed by EPA to be prostitutes just as much as I believe all postmen to be pimps, liquor store clerks to be child-killers, writers born in the 1940's to be drunks, or maths teachers to be deranged. That is to say, not in the least: all personages and professions in my film are of course depicted without intentional references to the real world, and are exclusively the products of my imagination. Therefore, I see no reason that Prison should be shown in any other form than the unclipped version screened at its premiere. 
Dagens Nyheter, 5 April 1949, p. 11. Also published in Filmnyheter 4, No. 8, 1949.