Experimental theatre!
Bergman writes about two upcoming plays at Mäster Olofsgården.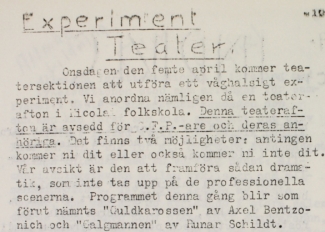 About the text
Bergman writes the following text about The Golden Chariot and The Hangman:
This evening of theatre is intended for SFP and their guests. There are two options: either you will be there or you won't. Our intention is to present works that are not staged by professional theatres. [...] Our greatest strengths go up in smoke. We wish to do our part to honestly present these worthy pieces. Your attention shall drive us onwards. 
[Note: SFP owned Mäster Olofsgården]
Sources
Henrik Sjögren, Lek och raseri: Ingmar Bergmans teater 1938-2002 (Carlssons Bokförlag, 2002).
Stockholms förenade prästerskap (SFP), No. 3, 1939, p. 24