Experimental theatre... again
A personal presentation of Pär Lagerkvist's drama The Man Who Lived Twice.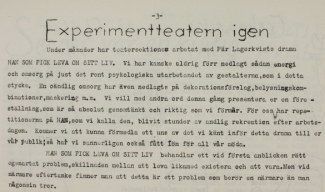 About the text
Bergman's production at Mäster Olofsgården.
For months the theatre has worked on Pär Lagerkvist's The Man Who Lived Twice. One could say that we have never before devoted so much energy and attention to the strictly psychological development of the characters as in this piece. Endless attention was also devoted to the set, lighting, costumes, etc. 
Sources
Henrik Sjögren, Lek och raseri: Ingmar Bergmans teater 1938-2002 (Carlssons Bokförlag, 2002).
Stockholms förenade prästerskap (SFP), No. 9, 1939.