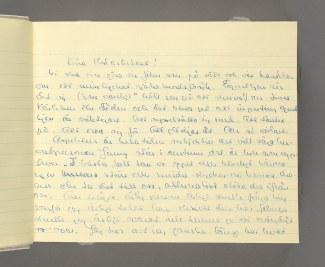 B:110
148 p., bound + supplement
Typewritten director's script. Handwritten pages. Supplement 1: 2 handwritten sheets Bilaga 1: 2 handskrivna blad samt "Alcohol test?" Me?!" (Leaflet from the police.)
B:111
150 p., loose sheets
Typewritten script. 4 acts. 
B:118
103 p., loose sheets
Typewritten script, carbon copy. English translation by Alan Blair. 
C:017
[363] sheets ; 18 x 22 cm, bound.
Handwritten script. Undated. Odaterat. 
F:122
[86] p.; 20 x 18 cm
Spiral notepad. Dated: "13.4.74 Easter Eve - Tues. 1 July 1975." On cover: "May - 75. The psychiatrist. Face to Face. The living room. The clouds. The beach. Grandfather's house. The realization." Also diary notes + loose sheets [Face to Face]: "Addition, re-shot of dream no 1", [8] sheets, 18 x 22 cm.
Ansikte mot ansikte, (Stockholm: Norstedts, 1976). Translated and published in several languages.