Fårö Document 1979
10 years on, families of farmers and fishermen talk about life on Fårö then and now in this independent sequel to Bergman's Fårö Document 1969.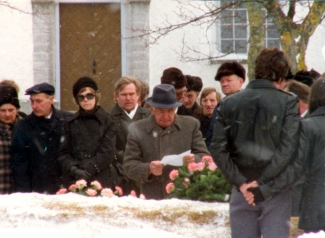 "Just after nine o'clock in the evening on Christmas Eve (a traditional time for peace and quiet) we were shown the macabre slaughter of a pig as part of Ingmar Bergman's television programme from Fårö."

Arvid Hallström in Nordvästra Skånes Tidningar
About the film
Ingmar Bergman on the genesis of the film in an interview in Röster i Radio-TV: 
Fårö Document 1979 [...] is dedicated to the inhabitants of Fårö. Fårö Document was shown ten years ago, and this film is a follow-up of what was filmed then.

'Even then I had a feeling that we shouldn't let this be a one-off,' says Ingmar Bergman. 'Both Sven Nykvist and I felt that we still had plenty to do. The first film was made over a very short period, six weeks in the early spring of 1969. The big project never materialised, and for various reasons we were forced to shelve it.'

During the summer of 1976 Ingmar Bergman spent six weeks at his house on Fårö, and it was then that his plans were revived. Together with Arne Carlsson, a man born and bred on Fårö and Bergman's stills photographer of many years' standing, he started to sketch out the film. Arne Carlsson, who has learnt his craft a cinematographer from Sven Nykvist, proposed contrasting the crowded beaches at Sudersand in the summer with its total emptiness at other times of the year.

'Arne and I both thought that the schizophrenia surrounding Fårö was something worth documenting,' says Ingmar Bergman.

Sources of inspiration 
Bergman in Images: My Life in Film: 
'My community spirit lies in Fårö. Since my childhood I've felt rootless wherever I happen to have been. It was only when I first went to Fårö in 1960 and moved there 13 years ago that I felt at home somewhere in the world. That's where my roots are, where I feel that I belong. When I've finished my work down here [in Munich], or finished my work full stop, then I'll go back there and become a Fårö man.'

Shooting the film 
Ingmar Bergman interviewed some forty or so Fårö residents, Arne Carlsson filmed them and was given the job –as a resident of Fårö whose roots then went back several generations – of seeking out and filming interesting places and buildings. By the end, they had shot 32 kilometres of film, the equivalent of forty-four hours of viewing.

Epilogue 
Bergman on the editing process in Images: My Life in Film: 
Towards the end of the summer, Sylvia Ingemarsson and I started to edit and sort the vast amount of material. In order to set a theme, we worked around the four seasons and made four acts. We started with spring and ended with winter, using that method to compile the film. It turned out to be four hours long, quite lengthy for a documentary. But it takes time to create the right gravitas and power. You shouldn't just rush past these people.
Sources
The Ingmar Bergman Archives.
Ingmar Bergman, Images: My Life in Film.
Röster i Radio-TV, nr 52, 1979.
Distribution titles
Fårö 1979 (Great Britain)
Fårö-dokument 1979 (Denmark)
Mon île Fåro (France)
Production details
Production country: Sweden
Swedish distributor (35 mm): Svenska Filminstitutet
Laboratory: FilmTeknik AB
Production company: Cinematograph AB

Aspect ratio: 1,37:1
Colour system: Black & white and colour
Sound system: Optical mono
Original length (minutes): : 121

Censorship: 121.251
Date: 1980-04-23
Age limit: 11 years and over
Length: 1128 metres

Release date: 1979-12-24, TV1 Sweden, 116 minutes
Cinema release: 1981-10-19, Filmstaden, Stockholm, Sweden, 103 minutes
Filming locations 
Sweden (1977-1979)
Fårö, Sweden 
Music 
Title: Mary Jones
Composer: Claes af Geijerstam (1967)
Lyrics: Claes af Geijerstam (1967) Johannes Olsson (1967)
Title: Den blomstertid nu kommer
Lyrics: Israel Kolmodin (1694) Johan Olof Wallin (1819)
Britt G. Hallqvist (1979)

Title: Visa vad du går för
Composer: Dante Holmberg (Alternative name) Anders "Olle" Olander
Lyrics: Dante Holmberg (Alternative name) Anders "Olle" Olander

Title: Santa Lucia Alternative title: Sankta Lucia
Composer: Teodoro Cottrau (1850/51)
Lyrics: Teodoro Cottrau (Italian lyrics 1850/51) Arvid Rosén (Swedish lyrics "Natten går tunga fjät") Sigrid Elmblad (Swedish lyrics "Sankta Lucia, ljusklara hägring")

Title: Boys
Composer: Staffan Birkenfalk
Lyrics: Staffan Birkenfalk

Title: Bröllopsmarsch
Composer: Florsen i Burs (Alias)

Title: Gotlandskadrilj
Kompositör: C.L. Lawergren

Title: Käringträtan
Composer: Rolf Gösta Dahlström

Title: Luntilua

Title: Rymm en dag
Composer: Hans Olof Svensson
Lyrics: Hans Olof Svensson

Title: Skaffarepolskan
Composer: Svante Pettersson

Title: Sommar och sol och semester
Composer: Gunnar Sandevärn
Lyrics: Gunnar Sandevärn

Title: Åkermans polska
Composer: Lars Niclas Åkerman
Mauritz Edström in Dagens Nyheter:
The interesting thing about the 1969 Fårö film was precisely the fact that it was not interesting solely because Bergman had made it, but because it was the first time he had gone out with a documentary camera into the real Sweden. [...] The same applies even more to the new Fårö Document 1979 which Bergman has now returned with. [...] I can imagine a few people calling out for a more general view of society as the framework for this portrait of a sparsely populated area. Bergman is undoubtedly wary of such a thing – it is not his language. [...] I am convinced that these films will continue to stand as documents longer even than many of Bergman's other films.
Elisabeth Sörenson in Svenska Dagbladet:
It may, perhaps, not be unwarranted to call it a love film – despite being a documentary through and through. It is about a landscape and the people in that landscape, their circumstances and what they can achieve. [...] The somewhat different view of life that finds expression here is naturally not something that is a particular characteristic of the inhabitants of Fårö, nor are the problems they face making a living – the same applies to the gulf between the people affected and the decisions made by bureaucrats elsewhere. The special quality of Fårö Document 1979 is that at the same time as being about Fårö, with its unique conditions and landscapes, is also a piece of Sweden 1979. Bergman has created a document of the times – the landscape lends it an eternal perspective. Just look at the image of Fårösund drenched in the spray of a spring storm! A drama that no dramatist could accomplish.
Jan Aghed in Sydsvenska Dagbladet:
It would be wrong to say that it has a main character, other than in the collective sense: the inhabitants of Fårö, from schoolchildren to smallholders, farming families and fishermen, play the leading role. But one person's everyday destiny is highlighted with such regularity in this portrayal of the lives of the island dwellers that it acquires a kind of representative and symbolic value. That person is the farmer Valter Broman, a man in his seventies who – according to the narration of Ingmar Bergman himself – 'lives and works in total and self-chosen isolation.' [...] Bergman's strong fascination for this elderly working man is obvious. The section featuring him is at once contemplative and a very evident tribute to the nature of his work, the skill and sensitivity of his hands, to his courage and the consequences of the way he has chosen to live his life. By the end we have grown closer to Broman and become more absorbed by him than by many of the director's fictional main characters. Albeit that the number of lines he has are very few, and the exterior drama almost non-existent.
James Quandt, 1996:
Bergman produced two films about his beloved island Fårö, where he made his home and which served as the setting for [many of his] films. In 1969, troubled by the island's disappearing traditions and the exodus of its young people to the mainland, Bergman made a surprisingly direct and political document about Fårö's importance.Ten years later he took a second look at the situation in his second Fårö Document. (A third was planned for 1989 but was not made.) The update is surprisingly optimistic, with several remarkable "then and now" juxtapositions. The unhappy teenagers about to decamp for Stockholm in the first film turn out to have settled into the quiet isolated Fårö life. Interweaving scenes of extraordinary natural beauty with interviews and rigorous sequences depicting everyday chores, customs, and rituals on Fårö, Bergman develops a complex, understated, and loving portrait of his tiny island.
Collaborators
Richard Östman
Ulla Silfvergren
Annelie Nyström
Valter Broman
Per Broman
Irene Broman
Inge Nordström
Annika Liljegren
Arne Eriksson
Adolf Ekström
Viktoria Ekström
Anton Ekström
Erik Ekström
Ingrid Ekman
Per Ekman
Per Nordberg
Gunilla Johannesson
Erik Hammarström
Herbert Olsson
Rune Nilsson
Joe Nordberg
Jan Nordberg
Rosa Olofsson
Ingmar Bergman
Lars-Owe Carlberg

, Administration

Daniel Bergman

, Gaffer

Arne Carlsson

, Director of Photography

Sylvia Ingemarsson

, Film Editor

Lars Persson

, Production Mixer

Lars Lundberg

, Production Mixer

Thomas Samuelsson

, Production Mixer

Nils Melander

, Color Timer

Owe Svensson

, Re-recording Mixer

Conrad Weyns

, Re-recording Mixer

Svante Pettersson

, Music Composer

Sigvard Hult

, Music Composer

Siv Lundgren

, Other Crew

Peder Langenskiöld

, Other Crew

Robert Herlitz

, Other Crew