The Fish
"Farce intended for film," reads the subtitle to this absurd story about Joakim, who catches a fish who grants him three wishes.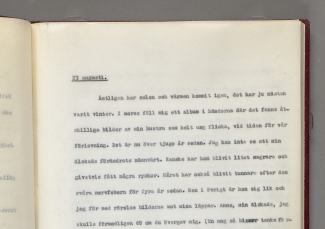 About the text
After murdering his wife's lover, Joakim is sentenced to death, but escapes when the guillotine malfunctions. His final wish is then fulfilled: to regress to a foetus in the womb of his lover. The protagonist is the same as in Joakim Naken, but the story also bears similarities to Sawdust and Tinsel, where Frost tells Albert about a dream in which he became smaller and smaller, ultimately becoming an embryo in Alma's belly before disappearing altogether. 
E:013
74 sheets, bound; 36 x 22 cm + Supplements
Typewritten script + Carbon copy. Dated: Skägga, September 1950. 
Biografbladet 31 (No. 4, Winter 1951; 32, No. 1, Spring 1952; No. 2, Summer 1952; No. 3, Autumn 1952).