The Fourth Story of Matheus Manders, or, About a Murderer
Thriller concerning the jealousy between Krister and the bureau chief Erik, titled "The Face of a Killjoy."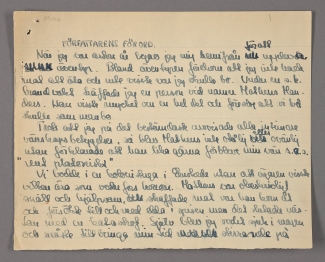 About the text
Bergman's foreword is a rather proper disclaimer:
Usually, a foreword is written when an author feels that an artistic endeavour hasn't quite lived up to its intentions. Filled as it is with stylistic and dramatic inconsistencies, and some gaping holes, my only hope is that someone finds the present work to be of some sort of use. For lack of a better excuse, all I can say in my defence is that I've been living in a period of rather miserable uncertainty, due to a script by the name of Torment.
F:016
[86] sheets ; 18 x 23 cm
Handwritten script beginning with the author's foreword. Dated: Åkeslund 12.10.43.
F:017
[54] sheets
Typewritten script. No title page. 
Maaret Koskinen, I begynnelsen var ordet: Ingmar Bergman och hans tidiga författarskap (Stockholm: Wahlström och Widstrand, 2002), pp. 77–79.