The Ghost Sonata
The first of Bergman's four stagings of Strindberg's chamber play – the final one was in 2000 – was a critical success but a public fiasco.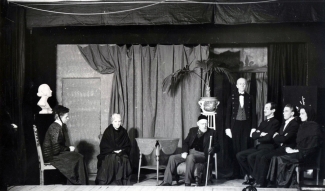 'We intend to acquaint our public with a strong, essential repertory that the big theatres do not present... It has been an obvious choice to start with Strindberg.'
About the production
This was the first Swedish staging of Strindberg's play after its premiere at the Intima Theatre in 1908. In the programme notes to his second production of the piece in Malmö in 1954, Bergman says the following: 
In 1941 I was the director of a very small theatre with only 99 seats, located in Medborgarhuset (Citizen's House) in Stockholm. We put on pieces for small children, including The Tinder Box, A Midsummer Night's Dream and Beppo the Clown. We decided to put on a piece for adults and chose The Ghost Sonata, which hadn't been shown in years. The cast consisted of Erland Colliander as Old Man Hummel, Dagny Lind as The Mummy, Gunnar Björnstrand as The Colonel, Peter Lindgren as The Student, Marianne Öhman as The Dark Lady and Sture Ericsson played The Dead Man. Everyone was paid 10 crowns per show and given no rehearsal money (that's how it was in those days).
Only six of the ten planned performances were staged. 
Sources
The Ingmar Bergman Archives.
Two of Bergman's earlier supporters, Nils Beyer and Herbert Grevenius praised his Strindberg production, Beyer for the troupe's efforts to offer serious drama and thus break the dominance of light entertainment in Stockholm's theatre life, and Grevenius for its enthusiasm.
Collaborators
Erland Colliander

, Old Man Hummel

Peter Lindgren

, The Student

Anna-Stina Osslund

, The Milk maid

Agnes Svedbäck

, The Door keeper

Sture Ericsson

, The Dead Man

Marianne Lenard

, The Dark Lady

Gunnar Björnstrand

, The Colonel

Dagny Lind

, The Mummy

Marianne Öhman

, The Young Lady

Bertil Sjödin

, The Posh Man

Bo Lindström

, Johansson

Rune Stylander

, Bengtsson

Karin Lannby

, The Fiance

August Strindberg

, Author

Ingmar Bergman

, Director

Gunnar Lindblad

, Designer