Grandmother and Our Lord
A radio production of Hjalmar Bergman's classical novel, with veteran actress Tora Teje in the lead.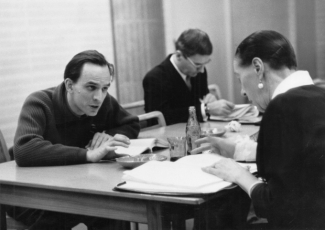 'Ingmar Bergman led the actors with mastery, the ensemble acting had a pure musical effect.'
Reviews and comments
The broadcast was a great success, and Sveriges Radio was urged to make the production part of its regular repertory.
Sources
The Ingmar Bergman Archives.
Collaborators
Tora Teje

, Grandmother

Henrik Schildt

, August

Renée Björling

, Frida

Sif Ruud

, Emma

Håkan Westergren

, Axel

Josua Bengtson

, Axelsson

Olof Sandborg

, Gavenstein

Gösta Gustafson

, A beggar

Gunnar Björnstrand

, Nathan

Hjalmar Bergman

, Author

Herbert Grevenius

, Radio adaptation

Ingmar Bergman

, Director

Stina Bergman

, Translation