Hans Christian Andersen play in Stockholm!
A pitch for Sweden's first children's theatre.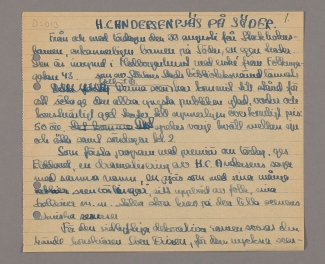 'The children themselves will review the plays and request future performances.'
About the text
Bergman staged H.C. Andersen's The Tinder Box at Stockholm's Sagoteatern (Fairy Tale Theatre). These notes contain information on everything from the script to daily press announcements. Bergman apparently performed most of the tasks at Sagoteatern - director, stage manager, producer, head of marketing, etc. 
Under the heading 'Newly opened children's theatre', Bergman describes the ground-breaking idea behind the Sagoteatern. 
This newly opened children's theater in Södermalm, Stockholm, at Medborgarteatern (Citizen's Theatre), is undertaking an experiment with the following guidelines: That children shall review the productions and select future stagings. 

A close collaboration is underway with the public schools, in which various language and art teachers will be involved. Children shall write essays and make drawings on performances they have seen. This is an experiment in psychology, extending beyond just the sphere of theatre and school. This experiment will show how much children between the ages of 8 and 16 comprehend plays, both the ethical and aesthetic dimensions, what they assimilate and appreciate.  
A number of the children's writings and drawings were kept by the theatre and later by Bergman himself, and these remain in the Ingmar Bergman Archive. 
D:008
63 p., bound.
Typewritten script. Copy of director's notes. Dedication: "To Kajsa from her faithful director, with kisses and cui".
D:010
1 sheet ; 30 x 50 cm
[The Tinder Box: set design / Ingmar Bergman].
D:011
[6] p.
5 pencil and crayon sketches.
D:012
[12] p.
[The Tinder Box: handwritten draft of programme notes / Ingmar Bergman]
+ 1 typewritten version. [3] pgs. + 1 sheet entitled Introduction to Sagoteatern.
D:013
[2] p. + supplements
[The Tinder Box: handwritten draft of script to 'H C Andersen play in Stockholm!' / Ingmar Bergman]
+ 1 typewritten copy, 1 p. + 11 copies of press announcements.
P:002:04
1 p.
Programme notes, 10 copies.