The Keys of the Kingdom of Heaven
The only remaining example of Bergman's work from his university days is an essay on – believe it or not – Strindberg.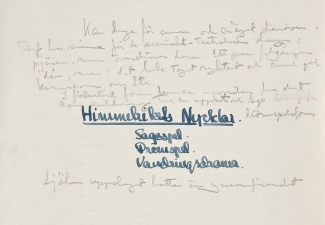 About the text
Bergman studied literary history at Stockholm University in the early 1940s. He himself claimed that he enrolled at the university primarily to be able to work at Stockholm's Student Theatre. Regardless, at least one academic result remains from his time there, an essay on a rather obscure Strindberg play. The instructor's (legendary professor Martin Lamm?) handwritten comments on the title page state that he found, 'The concept better than the delivery'.
F:147
25 p.; 22 x 29 cm
Lit. hist. prose. H.T. 40 [at Stockholm University]
Typewritten essay with handwritten title page. Instructor's comments handwritten on the title page.