The Last Cry
Bergman's staging of the first play based on his own manuscript since the 1950s, which was also published in The Fifth Act (1994).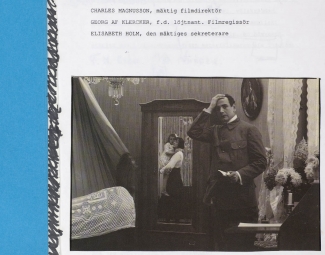 Guest performances
The performance opened at Filmhuset in Stockholm and then guest performed in Malmö and Gothenburg, before it returned to Stockholm and played at the small stage of The Royal Dramatic Theatre.
1. Stockholm, Swedish Film Institute, Bio Victor, 4 February 1993
2. Malmö, Victoria, 20 September 1993
3. Gothenburg, Lorensbergsteatern, 8 February 1994
4. Stockholm, Royal Dramatic Theatre, 9 October 1994
Sources
The Ingmar Bergman Archives.
Collaborators
Björn Granath

, Georg af Klercker

Ingvar Kjellson

, Charles Magnusson

Anna von Rosen

, Elisabeth Holm

Rasmus Rasmusson

, Props (TV version)

Irene Wiklund

, Picture engineer (TV version)

Åke Enbom

, Electrician (TV version)

Stein-Olav Trones

, Electrician (TV version)

Per Norén

, Camera operator (TV version)

Raymond Wemmenlöv

, Camera operator (TV version)

Sven-Åke Visén

, Camera operator (TV version)

Peter Ahlgren

, Assistant camera operator (TV version)

Sven Jarnerup

, Assistant camera operator (TV version)

Anna Nilsson

, Assistant camera operator (TV version)

Bengt Wanselius

, Stills photographer

Ingmar Bergman

, Author

Ulla Smith-Örn

, Graphic design (TV version)

Sylvia Ingmarsson

, Editing (TV version)

Helvi Treffner

, Costume assistant (TV version)

Sofi Lerström

, Coordinator

Mette Möller

, Costume design

Magnus Berglid

, Sound technician (TV version)

Göte Carlsson

, Sound technician (TV version)

Kjell Klingemark

, Sound technician (TV version)

Börje Berglund

, Lightning electrician (TV version)

Sven-Erik Jakobson

, Lightning (Filmhuset)

Leif Qviström

, Make-up man

Mona Tellström-Bergh

, Make-up woman

Gunnar Frisell

, Mixing (TV version)

Matti Bye

, Music

Måns Reuterswärd

, Producer (TV version)

Karin Brodahl-Persson

, Production secretary (TV version)

Lars Bjälkeskog

, Project leader (TV Version)

Jan Askelöf

, Assistant editing (TV version)

Urban Sjögren

, Assistant editing (TV version)

Jan-Erik Savela

, Props (TV version)

Maj-Britt Vifell

, Script girl (TV version)

Sven Brandt

, Floor manager (TV version)

Ulf G. Eriksson

, Technical assistant (TV version)

Hans Rydström

, Technical manager (TV version)