From the Life of the Marionettes
A businessman with a tempestuous marriage is subject to murderous impulses.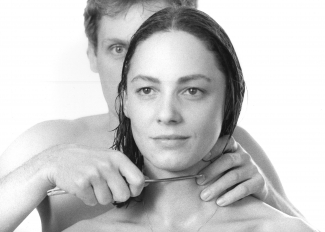 "Down in Munich, Bergman has set himself free from his well-thumbed Swedish family album, and the subsequent loss in domestication has meant a gain in freshness and revitalization."

Jurgen Schildt in Aftonbladet
About the film
Ingmar Bergman in Images: My Life in Film:
From the life of the Marionettes is my only German film. The Serpent's Egg may at first glance appear equally German. But I conceived it in Sweden and wrote it at about the same time I was receiving the warning sings of my own personal catastrophe. The Serpent's Egg is presented from the point of view of an outsider's desperate curiosity, but when I made From the Life of the marionettes, I had to some degree accepted my own life in Germany and no longer had problems with the language. I had been working in the German theater for some time and could tell if what was said sounded right or wrong. I felt that I knew the German people and their culture.
Sources of inspiration 
Writing on the genesis of the film in Images: 
During my second year in Munich (in 1977), I had begun writing a story I called Love with No Lovers. It was heavy and formally fragmented, and it mirrored an upheaval that clearly had something to do with my exile. The setting was Munich, and it dealt, as did my silent movie dream, with a large amount of film segments that had been abandoned by the director.[...]

Nobody in Sweden wanted to invest a penny in Love with No lovers, even though I was willing to put my own money into it. I spoke with Horst Wendlandt, who was the German coproducer of The Serpent's Egg, but he had been burned by that experience. Dino De Laurentiis declined as well, and it was soon evident that this large, expensive project would not get off the ground. That was all there was to it. I had been around and knew that the more expensive your projects were, the greate the possibility of refusal.

I buried the project without bitterness and didn't think about it further. Later, in order to foster and strengthen the ensemble at the Residenz Theater, I thought it might help if we made a television play together. So I carved the story about Peter and Katarina out of the buried Love with no lovers.

There are a few scenes left from the original script, but, by and large, From the Life of the Marionettes is fresh.

The film is based on concrete observations and memories surrounding a theme that had haunted me for a long time: how two human beings who are insolubly and painfully united in love at the same time tryp to rip themselves free of their shakle.

The main characters of From the Life of the Marionettes, Peter and Katarina, appeared previously in Scenes from a Marriage, in which they acted as counterpoints to Johan and Marianne in the first episode.
Sources
The Ingmar Bergman Archives.
Ingmar Bergman, Images: My Life in Film.
Jurgen Schildt in Aftonbladet:
Down in Munich, Bergman has set himself free from his well-thumbed Swedish family album, and the subsequent loss in domestication has meant a gain in freshness and revitalization. Admittedly, Robert Atzorn does not elicit unconditional praise as the male lead: this is down to a leadenness which, in his moments of aggression and contrition, makes him appear like a curate about to administer communion. Yet Christine Buchegger is certainly one of Bergman's sparkling new finds. She is composed, expressive, unpredictable, at once both a siren and demon, a Circe and a Beatrice. And the film contains a third leading role, full of strident virtuosity.

That role belongs to Walter Schmidinger in a close-up of the homosexual clothes designer Tomas Isidor Mandelbaum, alias Tim: a character reminiscent of the one created by Erland Josephson in Face to Face. He is the "little old man", with an appearance like that of the elderly Harold Lloyd and two eyes that glow with anguish. In two long and harrowing scenes he pours out his confessions: about homosexuals and hard-nosed market forces, about his cunning, his pills and his alcohol, his hunt for Turkish and Italian small boys at the Central Station, his compulsion to stand knee-deep in the shit….
Eva af Geijerstam in Dagens Nyheter:
I can think of two takes on From the Life of the Marionettes. One is as an anonymous psychological thriller. As such, it succeeds aesthetically, but the murder in the beginning is misplaced. The other is to see it for what it is: a chamber play by Ingmar Bergman, full of references to, and parallels with, his earlier films. But this time he has produced a chamber play with such tightly-closed doors, that I, at least, feel compelled to peer through the keyhole. And that is not an entirely pleasant experience.
Åke Janzon in Svenska Dagbladet:
In common with most of Ingmar Bergman's major films, this also has a touch of the devil's delusions, although technically and artistically it is unassailable. Yet the fact that it also has a tremendous psychological intensity may still not be enough to convince us that the explanation for the murder of the girl Ka is to be found within the framework of the film.

But neither is this Bergman's intention– he expressly states that he is leaving it up to the viewers to draw their own conclusions. Most generous, Professor, but to my mind somewhat remiss. For surely we are hardly supposed to be satisfied by the determinism that the very title, From the Life of the Marionettes, implies?
Distribution titles
De la vida de las marionetas (Spain)
De la vie des marionettes (France)
Fra marionettenes liv (Norway)
Production details 
Production country: West Germany
Distributor in Sweden  (35 mm): Sandrew Film & Teater AB, Svenska Filminstitutet
Distributör i Sverige (rentak video): Esselte Video AB
Costume: Heinz A. Schulze-Varell-Couture
Production company: Personafilm GmbH
Bayerische Staatsschauspiel

Aspect ratio: 1,66:1
Colour system: Black and white and colour
Sound system: Optic mono
Original length (minutes): 103

Censorship: 121.472
Date: 1980-10-14
Age limit: 15 years and over
Length: 2840 metres

Release date: 1980-11-07, West Germany, 104 minutes
Swedish release: 1981-01-24, Sandrew, Göteborg, Sweden, 104 minutes
Sandrew, Linköping, Sweden
Sandrew, Malmö, Sweden
Grand, Stockholm, Sweden
Sandrew, Uppsala, Sweden
Music
Title: Touch Me, Take Me
Singer: Rita Wright
From the Life of the Marionettes is an unusually raw and explicit Ingmar Bergman drama, featuring two supporting characters from Scenes from a Marriage.

Peter Egermann (Robert Atzorn), outwardly stable and well adjusted, suffers from depression, feelings of sexual inadequacy, and barely suppressed rage toward his wife, Katarina (Christine Buchegger), the latter eventually leading to the brutal rape and murder of a prostitute. Events are not presented in chronological order, but the film consists mainly of a number of scenes preceding the crime that painfully illustrate the Egermanns' marital discord, and a series of subsequent police interrogations involving psychiatrist Mogens Jensen (Martin Benrath), a friend of the Egermanns'; Katarina's business partner, Tim (Walter Schmidinger); and Peter's devastated mother (Lola Müthel).
Collaborators
Robert Atzorn
Christine Buchegger
Martin Benrath
Rita Russek
Lola Müthel
Walter Schmidinger
Heinz Bennent
Ruth Olafs
Karl-Heinz Pelser
Gaby Dohm
Toni Berger
Erwin Faber
Doris Jensen
Rolf Zehetbauer

, Set Decorator

Sven Nykvist

, Director of Photography

Lars Karlsson

, Assistant Cameraman

Karl-Heinz Hofmann

, Assistant Cameraman

Michael Juncker

, Unit Manager

Franz Achter

, Unit Manager

Petra von Oelffen

, Film Editor

Geri Ashur

, Film Editor

Emmi Horoschenkoff

, Costume Designer

Anton Eder

, Costume Designer

Norbert Lill

, Sound Assistant

Paulette Rubinstein

, Sound Assistant

Peter Beil

, Production Mixer

Rudolf Iblherr

, Color Timer

Mathilde Basedow

, Make-up / Hair

Milan Bor

, Re-recording Mixer

Rolf A. Wilhelm

, Music Composer

Joe Hembus

, Press Agent

Horst Wendlandt

, Producer

Heidi Huber

, Production Accountant

Paulette Hufnagel

, Production Manager / Production Coordinator

Irmgard Kelpinski

, Production Manager / Production Coordinator

Helma Flachsmeier

, Production Secretary

Trudy von Trotha

, Assistant Director

Johannes Kaetzler

, Assistant Director

Harry Freude

, Property Master

Barbara Freude Schnaase

, Property Master

Herbert Strabel

, Production Designer

Arne Carlsson

, Still Photographer

Ingmar Bergman

, Screenplay