Light in the Shack
Considered the best play by Björn-Erik Höijer - a vocational teacher from northern Sweden hailed as a major new playwright - Light in the Shack had already been produced elsewhere in Sweden when the Royal Dramatic Theatre decided to stage it.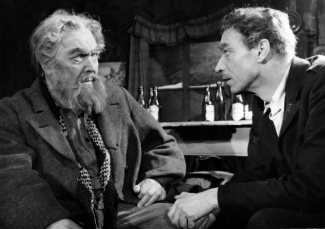 About the production
There were speculations in the press that Ingmar Bergman's guest production at the Dramatic Royal Theatre was a test case before hiring him on contract as a director, but this did not come about.
Sources
The Ingmar Bergman Archives.
Birgitta Steene, Ingmar Bergman: A Reference Guide, (Amsterdam University Press, 2005).
Collaborators
Uno Henning

, Sune Stark

Maj-Britt Nilsson

, Lena

Birgitta Valberg

, Elin

Ingvar Kjellson

, Pirkko

Hugo Björne

, Nilsson

Märta Dorff

, Mrs Nilsson

Sven-Eric Gamble

, Sven

Marianne Lindberg

, Lisa

Margit Carlqvist

, Bettan

Anders de Wahl

, Karlin

Björn-Erik Höijer

, Author

Ingmar Bergman

, Director

Sven Fahlstedt

, Designer