The Merry Widow
Bergman set a new audience record (155,000 viewers) as Malmö City Theatre celebrated its 10-year anniversary with this celebrated operetta.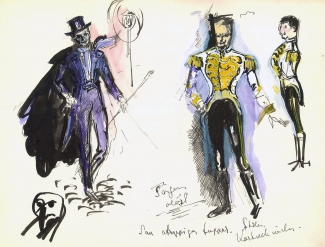 'The Merry Widow is like a wonderful old kerosene lamp. One must be careful not to put electric lights in it. It has to be treated with care and must not be modernized.'
About the production
In the early 1970s Barbra Streisand asked Bergman to make a film version of the operetta, with her in the leading role. Bergman wrote a synopsis, but a film never came out of it.
Sources
The Ingmar Bergman Archives.
Birgitta Steene, Ingmar Bergman: A Reference Guide (Amsterdam University Press, 2005)
Bergman's operetta production was a huge public success and changed his image as a theatre director. Up to then, his work had been associated with dark dramatic subjects. That he would bother to produce an operetta took reviewers by surprise, but they were delighted at the humour and ironic touch of The Merry Widow; where Bergman's angst had been 'replaced by a spurting joie de vivre'.

What excited the critics the most was Bergman's upgrading of a popular middle-class form of entertainment to a refined and sophisticated theatre art.
Collaborators
Åke Askner

, Baron Mirko Zeta

Britta Larke

, Valencienne

Gunnel Nygren-Almquist

, Valencienne

Per Grundén

, Count Danilo

Gaby Stenberg

, Hanna Glawari

Sigvard Berg

, Camille de Rossillon

Paul Höglund

, Vicomte Cascada

Arne Dahl

, Raoul de St. Brioche

Per Björkman

, Bogdanowitsch

Ulla Hellberg

, Sylvaine

Per Hjern

, von Kronow

Ulla-Greta Starck

, Olga

Åke Åkerlund

, Pritschitsch

Anna-Greta Nyberg

, Praskowia

Toivo Pawlo

, Njegus

Marianne Törje

, Lolo

Marianne Andersson

, Dodo

Gisela Bennech

, Jou-Jou

Titti Dupont

, Frou-Frou

Judith Frithiof

, Clo-Clo

Stina Jerre

, Margot

Leo Stein

, Author

Viktor Léon

, Author

Carl-Gustaf Kruuse

, Choreography

Ingvar Wieslander

, Musical arrangement

Ingmar Bergman

, Director

Per Falk

, Designer