The Merry Widow
"A film by Ingmar Bergman, frivolously penned after Lehár's operetta."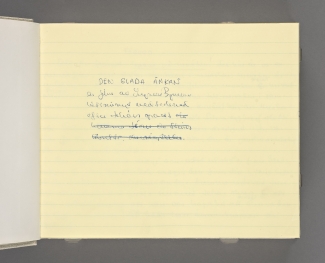 About the text
In the genre of "never realised projects", this one belongs to Bergman's most elaborate (and interesting).
F:034
[298] sheets, bound; 18 x 22 cm
Handwritten script. Dated: Fårö, Wednesday 3 October 1973.
F:035
142 sheets
Typewritten script with handwritten notes. Not digitized: 3 press clippings.