The Monk Walks in the Meadow
This play revolves around a clergyman and his wife who are visited by a runaway lunatic, and believing him to be a famous musical expert, are tempted to delve into the macabre.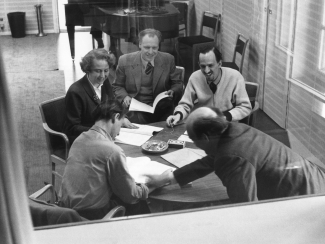 'No one is crazy, for we are all crazy.'
Reviews and comments
All the reviewers felt in fact that in this production Bergman overdid the expressionistic potential of the drama. 
Sources
The Ingmar Bergman Archives.
Collaborators
Ulf Palme
Birgitta Valberg

, Elgive

Bengt Ekerot

, Karl Vitus

Margaretha Krook

, Zuleima

Gösta Prüzelius
Carl Gandrup

, Author

Ingmar Bergman

, Director