Bengt Ekerot
One of the most prominent actors and directors of Swedish 20th-century theatre, Ekerot was iconic playing the figure of Death personified in The Seventh Seal.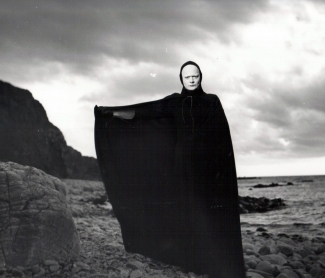 Bengt Ekerot
One of the most prominent actors and directors of Swedish 20th-century theatre, Ekerot was iconic playing the figure of Death personified in The Seventh Seal.
'He struggled to control his hunger. He bemoaned his voracious appetite. His demons destroyed his gentility.'

Erland Josephson on Ekerot in his book 'Rollen'
Awards
Gold Medal awarded by Teaterförbundet (1956)

The Daniel Engdahl Scholarship awarded by Teaterförbundet (1941)
Nils Bengt Folke Ekerot was born 8 February 1920 in Stockholm, Sweden. He left school before completing his exams in order to audition for the Royal Dramatic Theatre's acting school, but was not accepted on his first attempt. After studying under Willy Koblanck and Julia Håkansson, he was accepted at the acting school in 1938 after his second audition. After passing his exams in 1941, Ekerot called the New Theatre his home until 1945, where he was involved in the noteworthy student production of French Without Tears. He had his directorial debut in 1946 with the Danish comedy 'På Tre Man Hand'.

In 1947 he followed his former acting school instructor, Stig Torsslow, to Malmö City Theatre, where he pursued his directing career with ever more fervour. In 1948, he staged The Climber and the following year No One Goes Free, both Judas' dramas by Stig Dagerman. He later described these two dramatic works as 'spiritual brothers'.
Ekerot arrived at the Gothenburg City Theatre in 1950, where he spent three prosperous years, initiated with the debut staging of Light in the Shack, which Ingmar Bergman produced at the Royal Dramatic Theatre the following year. Two additional Gothenburg performances were Bertolt Brecht's The Caucasian Chalk Circle and Shakespeare's Hamlet. Per Oscarsson was initially cast in the leading role in Hamlet, but Ekerot himself played this role in the final production.
When Alf Sjöberg began filming a TV version of Hamlet in 1955, he cast Ekerot in the title role. Their collaboration continued with Sjöberg's staging of John Osborne's Look Back in Anger in 1957, with Ekerot as Jimmy Porter, an acting achievement referred to as 'a solo performance melding a reckless self-image and intellectual consideration'.   
In 1953 Ekerot returned to the Royal Dramatic Theatre, where he primarily worked as a director. Between 1953 and 1961 he taught stage production lessons at the Royal Dramatic Theatre's acting school. As a Royal Dramatic Theatre director, he led the prestigious international debut of Eugene O'Neill's Long Day's Journey Into Night in 1956.
At the onset of his acting career, Ekerot was cast playing sensitive yet troubled young men, as in 1947's Dynamite, for which he was awarded the AT Film Prize (which he also won for his role opposite Eva Dahlbeck in 'Brita I Grosshandlarhuset' the previous year). At the end of his career, he played bit parts in a few Jan Halldoff films.
Acting in 33 films, debuting in 1940 in Alf Sjöberg's They Staked Their Lives, his most indisputably infamous role was as Death in The Seventh Seal. His first connection to this film came in 1954, when he played The Knight in the Radioteatern performance of Wood Painting, the one-act play on which the film was based. Death as a theme reappeared in The Magician, where Ekerot played the alcoholic Johan Spegel, who was on his deathbed. In Images: My Life in Film, Bergman spoke of his work with Ekerot:
Bengt Ekerot and I agreed that Death should wear a clown mask, a white clown's mask. A fusion of a clown mask and a skull. This was a risky trick of deception which could just have well failed. Suddenly an actor appears on stage, donning white face paint, dressed in black, claiming to be Death. We accept that he is Death rather than saying, 'Come on, give us a break. Don't try to fool us! We know you are just a talented actor painted in white and dressed in black!'
In 1952 Ekerot directed Bergman's play The Day Ends Early for Radioteatern. Bergman and Ekerot collaborated for the final time in 1965, when Bergman – at the time the Head of the Royal Dramatic Theatre – took over Ekerot's Tiny Alice, due to Ekerot's diminishing health.
Ekerot's later career was plagued by his tragic self-destructiveness, which contributed to his premature death of lung cancer on 26 November 1971. Erland Josephson, who took over Bergman's position as Head of the Royal Dramatic Theatre and who was also forced to turn down Ekerot for roles, described him in his book 'Rollen'.
'He was hungry, but for precisely what he could never quite clarify. He had to silence this hunger. He read. He acted. He directed. He debated issues fervently. He smoked. He boozed. He struggled to control his hunger. He bemoaned his voracious appetite. His demons destroyed his gentility.'