[Notes on A Dream Play 1970]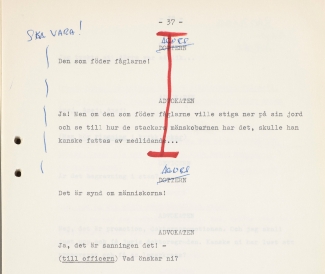 About the text
Director's script with Bergman's notes for his second production of Strindberg's A Dream Play.  
D:070
135 p., loose sheets
Typewritten script.  
D:069
82 p., bound + supplement 
Typewritten director's script. Supplement 1: 2 loose sheets. Not digitized: Script with a few notes, second copy + Press materials from touring perfomance in Helsinki (May) and Wiena (June).