[Notes on Ein Traumspiel]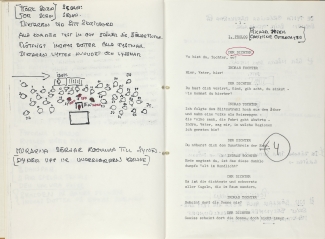 About the text
Director's script with Bergman's notes for the Munich-production of A Dream Play (in Peter Weiss's translation).
D:082

114 p. + supplements

Typewritten director's script with cast list, 2 sheets and handwritten rehearsal schedule, 2 sheets. Supplement 1: Envelope stamped 1906-08-24 addressed to Emil Schering in Strindberg's handwriting. Supplement 2: 1 pressed carnation. Not digitized: Easter card from Peter Fricke and 2 reviews in Swedish.