[Notes on The Father]
Bergman's own script notes for his first production of Strindberg's The Father.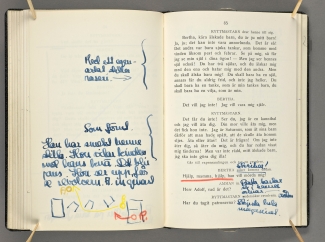 "With a uniquely silent rage."
About the text
The touring production was a disaster, and the critics were unrelenting. And yet, Bergman's direction seems to have been adequate, at least judging from the margin notes. In regards to the the Cavalry Officer's famous ending monologue ("I believe you all to be my foes! My mother, who never wished to have me in this world, on account of the painful birth – she became my enemy, when she deprived me of succour and made me into a half-cripple! My sister became my enemy when she taught me to obey her…" et cetera), Bergman has for example written the following: "These lines are delivered in an all-consuming fury, by a man on the verge of an utter breakdown."
D:007
94 p., bound + Supplement
Director's script. Printed script, (Stockholm: Bonniers, 1921) with interleaved pages.  Supplement: newspaper clipping, 1 page from Aftonbladet 1941-05-15.