[Notes on Katinka]
Bergman's adaptation and requisite notes on the Umeå author Astrid Väring's novel Katinka, from the same year. It was never made into a film.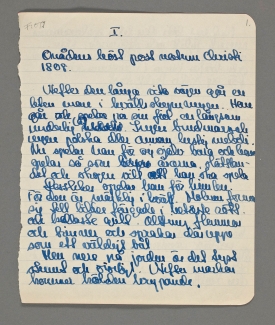 About the text
While Väring is the author of the text, the margin notes are pure Bergman, as well as much of the adaptation. For example, the trope of a mirror showing something other than the reflection of the viewer should seem familiar:
She stands there a while, gazing into her odd, dented little mirror before going to bed. But tonight, it's not her own face she sees.

It is the pale visage of an unfamiliar man – a boy – that the glass of the mirror reveals.
F:071
[4] p. on 2 sheets ; 21 x 17 cm
Handwritten script draft, 4 p. Undated. Sheet from notebook. No title. 
F:164
[48] sheets ; 29 x 23 cm
Typewritten script with drawing on page 22. Carbon copies. 
F:165
[101] loose sheets; 19 x 23 cm
Handwritten script in 175 scenes, not finished. Undated. No title. 
Astrid Väring (née Glas) was born in Umeå in 1892, and is sometimes referred to as the first literary author to depict the region of Västerbotten (West Bothnia) in her work, though many writers would follow in her footsteps. After her studies at the Royal Advanced Female Teachers' Seminary in Stockholm (which can also count Selma Lagerlöf among its alumni), she made her literary debut in 1924 with the novel I rang med husets katt. Her novel Katinka won the so-called Great Swedish Novel Prize in 1942, a competition organized by the publishing house Wahlström & Widstrand, the film production company Svensk Filmindustri (SF), and the family magazine Hemmets Journal. It was the through involvement of SF, where Bergman was currently employed, that he would go on to adapt Väring's work.