[Notes on The Magic Flute]
Seldom quoted but interesting text on Mozart's opera (though perhaps more about its director).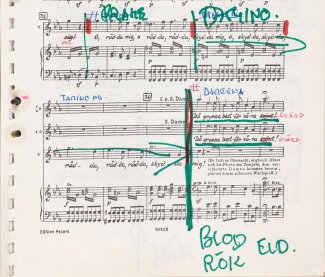 About the text
Everyone who bought the gramophone recording of Bergman's television film The Magic Flute got a booklet with the libretto and several pages of commentary by Bergman in Swedish, English and German.
Where does "The Magic Flute" take place? Stage designers have found insurmountable difficulties in localizing the play and have often taken to impossible mixtures of styles or naked stylizations which put people off or were incomprehensible.

I think we must go back to the origin of the piece to find a solution to the problem.

Herr Schikaneder owned a theatre which, in accordance with the custom of the time, was built of wood with considerable depth of stage, a slanting floor, side flies which could be pushed in and out, backdrops which could be raised and lowered, trapdoors, a billowing sea, arrangements for effective fires, ramps with sunlight and oil lamps, elevators for the messengers of the gods or other celestial appearances. Thus it was a locale with considerable power of suggestion and was extraordinarily popular with the audience. The owner wrote his musical drama for this wonderful magic box in full knowledge of the resources of his theatre, on both the technical and the human level.

In the attic he had his storeroom for costumes. There hung a beautiful Japanese hunting costume which hadn't been used for many years, and it would be useful now. It would be fine for Papageno in the first act.

In his troupe he had a soprano with an unnaturally remarkable coloratura, and she would do the Queen of the Night.
Trollflöjten - The Magic Flute - Die Zauberflöte. LP-box, SR Records RXLP 1226/28 (1974/1975). The original sound recording for Ingmar Bergman's television film "The Magic Flute" Radiokören and Sveriges Radios Symfoniorkester, conducted by Eric Ericson.