[Notes on The Virgin Spring]
Bergman's notes in the director's copy of Ulla Isaksson's script.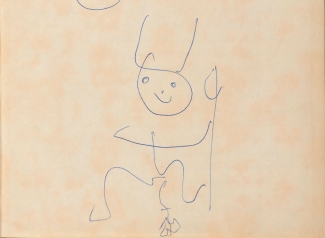 About the text
In addition to ample margin notes by Bergman, the script also contains a handwritten, encouraging "note-to-self," inserted before the title page:
It's ridiculous how long it took for me to find the words, which may not even seem very clear. But I digress.

I don't care a whit what others say. I've never been able to get those that dislike me to love me instead. Which is why I've decided to crawl out into the open and be who I am, without beating around the bush or being hampered by politeness. I must also try to live life in the same way, without fear. In light of these decisions, I'm a little worried about The Devil's Eye, the direction the script has taken. I hope that this (which makes me incredibly happy!) will have been a good reading, a moment of reflection. That is: to be straightforward, and live life.

London, the 2nd of May, 1959.
B:024
156 p., bound + Supplements ; 30 x 23 cm
Typewritten script with drawing of devil. Directors script. Supplement 1: 2 loose sheets, shooting schedule. Not digitized: Cast list and 1 photo.