The Pelican
In the spring of 1940, Bergman was approached by members of the Stockholm Student Theatre and in late autumn that year he debuted as its director with a production of Strindberg's The Pelican.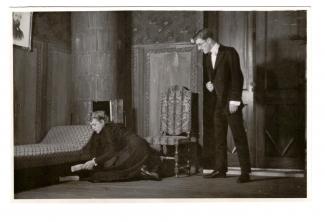 'An ambitious, commendable company.'

Erik William Olsson, Svenska Dagbladet
About the production
Clearly Strindberg was still a controversial figure in Swedish theatre life. One reviewer expressed some reservations about Strindberg's play as, 'the most horrible, grotesque, and frankly speaking, abominable play that Strindberg in his desperate moments has written'.
However, he also termed Bergman's production full of 'ambitious sincerity' and hoped that the young ensemble would focus on something more optimistic in the future.
Sources
The Ingmar Bergman Archives.
Birgitta Steene, Ingmar Bergman: A Reference Guide, (Amsterdam University Press, 2005).
Denmark, Copenhagen, University of Copenhagen, April 1941
Barbro Hiort af Ornäs, who played Gerda in the original version, was replaced by Annika Tretow during the guest performance in the occupied Denmark. The performance was visited by members of the Royal family and a newly written prologue by Danish playwright Kjeld Abell was performed before the performance.
Collaborators
Karin Lannby

, The mother

Carl Ivar Sandström

, The son

Barbro Hiort af Ornäs

, The daughter

Ted Winther

, The son-in-law

Margareta Sjögren

, Margret

August Strindberg

, Author

Ingmar Bergman

, Director