The Pelican
Despite the proximity of Malmö and Helsingborg, some local reviewers seemed to have just discovered Ingmar Bergman as a director.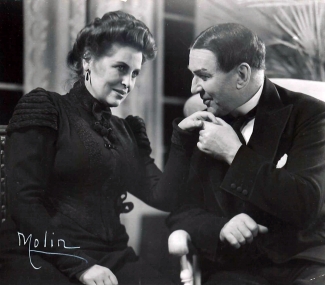 'Ingmar Bergman is not only a fellow who understands how to advertise himself. He is apparently a talented director.'

Allan Bergstrand, Malmö Arbetet
About the production
When Ingmar Bergman was invited as a guess director to the Malmö Municipal Theatre in 1945, he chose to present Strindberg's The Pelican, even though the same play had been produced in Hälsingborg the preceding season. On that occasion Bergman had given a short speech to the audience at a special performance arranged for the press on Strindberg's birthday, 22 January. However, he uses the occasion to argue for increasing public support for the theatre among the Helsingborg citizenry, adding that 'proclaimers of human and artistic truth who have no audience are like a broken record player at the bottom of the sea.'
Sources
The Ingmar Bergman Archives.
Birgitta Steene, Ingmar Bergman: A Reference Guide (Amsterdam University Press, 2005).
Henrik Sjögren, Lek och raseri: Ingmar Bergmans teater 1938-2002 (Stockholm: Carlssons Bokförlag, 2002).
Bergman commented on the play and his staging of it in an interview with Henrik Sjögren: 'I had no idea what it was about but I loved it because of its aggression.' Reviews were favourable for the most part, particularily impressed with Bergman's focus on the play's theme of unmasking. The majority, however, felt that the large fire at the play's end was weak ('a mild Bengal fire'). 
Helge Åkerhielm from Morgon-Tidningen spoke about Bergman's earlier staging of the same piece. 'Ingmar Bergman has devoted years' of attention to Strindberg's creepy, awkward chamber play. He first thrust himself at the materical at Stockholm's Studentteater with such a force that he found himself under metre-high waters. His intentions have now been reciprocated by the cast, and the play is truly a mature, well-executed and quality piece of theatre.'
Oddly enough, Herbert Grevenius was one of the least impressed with the perfomance, but made the following comment on Bergman. 'We expect a lot from him. He'll deliver next time round.'
Collaborators
Stina Ståhle

, The mother

Anders Ek

, The son

Inga Bucht

, The daughter

Eric Malmberg

, The son-in-law

Jullan Kindahl

, Margret

August Strindberg

, Author

Ingmar Bergman

, Director

Martin Ahlbom

, Designer