The People of Värmland
The first of two productions Bergman directed of F A Dahlgren's popular play, this time in which the radio adaption was produced along with famous Swedish author Vilhelm Moberg.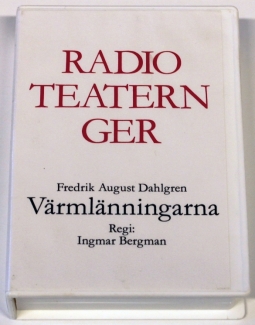 'Quick, instigating and skillful.'
About the production
The piece, a musical drama from the 1800s which was traditionally aired around Christmastime in Sweden, received mixed reviews regarding Bergman's direction. The play takes place in Värmland, a province in central Sweden, and Bergman used a dialect coach to train the actors in the correct accents. Some critics found it artificial; others praised the local dialect.
An anonymous listener described Bergman as an 'image magician and experimentalist', and Sven Stolpe in Aftonbladet found it 'quick, instigating and skillful', with cinematic scenes.
Sources
The Ingmar Bergman Archives.
This two-act musical drama, with text by Fredrik August Dahlgren (1816-95) and music primarily by Andreas Randel, premiered at the Stockholm Royal Opera in 1846. Amongst the 20 or so parts, the lovers Erik (tenor) and Anna (soprano) are the most memorable. He is a student and son of lay assessor Stor-Sven, whilst she is the daughter of the small farmer Jan-Hans. After a number of embroilments, the couple destroy their parents' wills and are together in the end. The People of Värmland has been staged annually in Sweden in Arvika (since 1927) and Ransäter (since 1953). 
Bergman staged this piece at Malmö City Theatre seven years later in 1958.
Collaborators
Torsten Hillberg

, Sven Ersson

Sif Ruud

, Lisa

Sven Lindberg

, Erik

Ulf Johansson

, Per

Meta Velander

, Stina

Carl Ström

, Jan Hansson

Märta Arbin

, Annika

Eva Dahlbeck

, Anna

Björn Berglund

, Anders

Gösta Gustafsson

, Ola

Yvonne Lombard

, Britta

Lars Egge
Erik Rosén
Anders Andelius

, Bengt

Gunnar Olsson

, Nils Jonsson

Einar Fröding

, Dialect coach

Sven Sköld

, Conductor

Fredrik August Dahlgren

, Author

Andreas Randel

, Music

Vilhelm Moberg

, Radio adaptation

Ingmar Bergman

, Director