Rachel and the Cinema Doorman
In a tongue-in-check dialogue entitled Encounter and printed in the programme to Bergman's production of his play Rachel and the Cinema Doorman, playwright and director engage in a dispute with a clearly disarming purpose.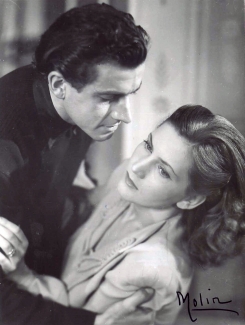 'As an author Ingmar Bergman is still in his puberty; as a director he is a mature artist.'

Frederik Schyberg, Stockholms-Tidningen
About the production
Before the autumn premiere of the play, Bergman wrote a letter to writer Herbert Grevenius that the piece was written after some of their conversations that spring.
I travelled home with a deep certainty about the existence of God, a certainty encircled by big black clouds of trial and tribulation. A subject matter, intended for something else, was already in my mind and had been for quite some time. Once the new ideas met this subject matter head on, Rachel and the Cinema Doorman came as a result. You will see just how deep an impression was left on me by the words you said on those evenings.
In the same letter, Bergman accused himself of having 'spoken with anxiety and doubt, rather than assurance and strength'. 
Sources
The Ingmar Bergman Archives.
Birgitta Steene, Ingmar Bergman: A Reference Guide, (Amsterdam University Press, 2005).
This was the first play both authored and directed by Ingmar Bergman in a professional theatre. The critical response followed the usual pattern when a new play was staged for the first time: more attention was given to dramatic content and structure and somewhat less to the presentation itself. Bergman's reputation as a young iconoclast preceded his production of Rachel and The Cinema Doorman and it reflected in some of the reviews.

Several reviewers raised what was to become the most common question about Ingmar Bergman as a playwright and theatre director: Was he a genuine dramatic talent or clever man of the theatre?
Collaborators
Ulf Johanson

, Eugen Lobelius

Barbro Kollberg

, Rachel

Curt Masreliez

, Kaj Hesster

Gaby Stenberg

, Mia

Jullan Kindahl

, Petra

Ingmar Bergman

, Author

Martin Ahlbom

, Designer