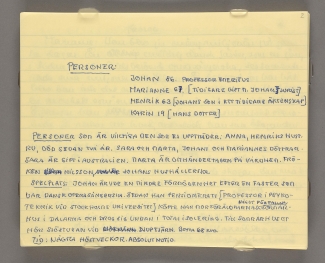 B:220
111 loose sheets + envelope 
Typewritten script with no title page. Handwritten text: "For Inga-Lill from Ingmar 7 Sept. 2002."  Handwritten text on envelope "Saraband, first print out." 
B:221
[208] s. + Supplements
Typewritten script (A4-binder). Director's script with three photographs and post-it notes. Dedication: "For Ingrid, today and every day 16.2.02". Supplement 1: Letter with envelope, 3 handwritten sheets in IB's hand. Supplement 2: Sketches by Göran Wassberg, extract from letter, fax, 42 sheets. Supplement 3: Book cover.  
C:036
122 sheets. ; 18 x 22 cm
Handwritten script. First version. Undated+Prologue A-C [3]p, Epiloge D-G [4] p.
C:037
107 sheets.
Typewritten script with handwritten notes. Dated: Fårö, Tues. 1 September 2001.  
F:141
[135] p. ; 20 x 18 cm
Spiral notepad. Dated: 17.6.98, Tues. 9.1.2001 - Thurs. 6 Sept. On cover:  "Sarabande. Analysis of a situation or Saraband. Marianne's journey. Anna." Notes: conversations with the dead from 1998+script drafts 2001.  
F:182
[20] sheets., [4] p. on 2 sheets. ; 18 x 22 cm
Handwritten script. Undated. Untitled. A number of paginated pages added as a complement. Supplement 1: 2 printed sheets on Torvald Torén and "The organ of Leufsta Bruk Church", 12 x 12 cm. 
Saraband, (Stockholm: Norstedt, 2003). Translated and published in several other languages.