School for Wives
TV theatre based on Molière's classical play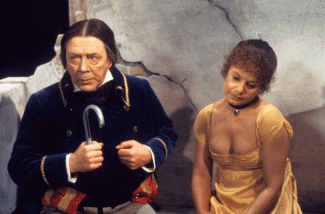 "During his final years, Alf Sjöberg made several masterpieces [...]. The last one was School for Wives; playful, composed, dark, unsentimental."

Ingmar Bergman in The Magic Lantern
About the film
Alf Sjöberg died in a traffic accident in 1980. At the time he was rehearsing Molière's School for Wives at Dramaten with, among others, Allan Edwall. Edwall and the rest of the cast chose to go on with the production in the spirit of Sjöberg. As a tribute to Sjöberg and Edwall, Bergman made this tv version of the production.
In an tv-interview prior to the broadcast of the film, Bergman talked about a pet idea of his: good theatre should be made available to everyone and not only to the people living in the bigger cities: 'Dramaten and the Royal Opera are two state institutions equally owned by Selma in Teckomatorp and Agnes in Korpilombolo but Agnes and Selma never get to see what we are doing.'
Sources
The Ingmar Bergman Archives.
Production details
Production country: Sweden
Production company: Sveriges Television AB
Original: L'école des femmes (Play) by Jean Baptiste Poquelin

Aspect ratio: 1,37:1
Colour system: Colour
Original length (minutes): 108

TV-screening: 1983-12-25, TV2 Sweden, 108 minutes
Collaborators
Lena Nyman
Stellan Skarsgård
Lasse Pöysti
Björn Gustafson
Ulla Sjöblom
Olle Hilding
Oscar Ljung
Nils Eklund
Sten Modigh

, Gaffer

Olle Jungesäter

, Gaffer

Stig Alfonson

, Gaffer

Leif Söderlund

, Gaffer

Jan Wictorinus

, Director of Photography

Lennart Söderberg

, Director of Photography

Per-Olof Runa

, Director of Photography

Martin Lundbom

, Assistant Cameraman

Ann-Charlotte Lannebjer

, Assistant Cameraman

Ann-Mari Anttila

, Costume Designer

Göran Wassberg

, Costume Designer

Tommy Lannge

, Costume Designer

Ragnar Backman

, Sound Assistant

Hans-Roland Engström

, Sound Assistant

Lennart Frisk

, Sound Assistant

Alvar Piehl

, Production Mixer

Yvonne Persson

, Make-up / Hair

Anna-Lena Melin

, Make-up / Hair

Birgitta Lundh

, Make-up / Hair

Rolf Linder

, Make-up / Hair

Micha Weidner

, Make-up / Hair

Gerd Edwards

, Producer

Ann-Christine Wickberg

, Production Secretary

Jan Askelöf

, Editor

Alf Sjöberg

, Director

Lotta Gummesson

, Assistant Director

Vivian Abrahamsson

, Property Master

Carina Sjöö

, Property Master

John Virke

, Production Designer

Gunnel Blomqvist

, Script Supervisor

Lars Forssell

, Translator

Hans Rydström

, Other Crew

Sven Brandt

, Other Crew

Ulf Jädergård

, Other Crew

Ingmar Bergman

, Director