The Seagull
Over two years passed from Bergman's farewell production at Malmö City Theatre of The People of Värmland at Christmas 1958 before this, his first staging as director at The Royal Dramatic Theatre in January 1961.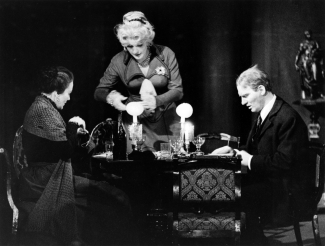 About the production
The seagull was Bergman's first Chekhov production. Some reviewers were surprised that he chose to make his Royal Dramatic Theatre directorial debut with a playwright he had never staged during his more that 20 years in the theatre and with whose temperament he did not have much affinity.
Bergman's focus in his production of The Seagull was clearly on the attraction and curse of being an artist, a theme he would also develop in several subsequent films (Persona, Hour of the Wolf, and Shame).

The anticipation prior to Bergman's staging of The Seagull was high: 'There was a rather breathless mood in the house when the Royal Dramatic Theatre public was confronted with Ingmar Bergman for the first time.'

Bergman's international reputation as a filmmaker also played a part. Several foreign newspapers had sent their critics to the opening. This seemed to irritate some of the Swedish reviewers: 'I must report a quite wonder at the international importance it (the production) has been given in advanced'.

The most glowing reviews were indeed written by foreign critics. By contrast, most of the Swedish reviewers were ambivalent. To one group, there was little reason to believe that Bergman would succeed with material as strange to his temperament as Chekhov's. Bergman's forte was, after all, colourful and surprising directorial impulses rather than subtle Chekhovian nuances. But to another group of reviewers, it was precisely the temperamental differences between playwright and director that was a positive feature: 'It was not Bergman one met but Chekhov, not Chekhov seen through Ingmar Bergman''s mind made discoveries.'
Among those who reacted more positively to Bergman's Seagull were critics from whom the production represented a new Ingmar Bergman, free of his youthful histrionics, an intent listener to another artist's dramatic text. (...…) In retrospect, however, the reception of Bergman's Seagull production has been termed tepid and unengaged.
Bergman himself was not too happy about his work. In Bergman on Bergman he says:
I'd just been engaged by The Royal Dramatic Theatre and had put on a dreadfully unsuccessful, tired and flabby production of Chekhov's The Seagull. I was unhappy at the theatre and thought everything was wrong.
Sources
The Ingmar Bergman Archives.
Bergman on Bergman: interviews with Ingmar Bergman / by Stig Björkman, Torsten Manns, Jonas Sima ; translated from the Swedish by Paul Britten Austin, (New York : Da Capo P., 1993).
Birgitta Steene, Ingmar Bergman: A Reference Guide, (Amsterdam University Press, 2005).
Collaborators
Eva Dahlbeck

, Irina

Per Myrberg

, Konstantin

Hugo Björne

, Sorin

Christina Schollin

, Nina

Jan-Erik Lindqvist

, Sjamrajev

Aino Taube

, Polina

Kristina Adolphson

, Masja

Uno Henning

, Dorn

Ulf Palme

, Trigorin

Hans Strååt

, Medvedjenko

Gunnar Collin

, Jakob

Gustaf Andersson

, (unknown part)

Carin Lundqvist

, (unknown part)

Etienne Glaser

, (unknown part)

Anton Tjechov

, Author

Pelle Svedlund

, Stage manager

Marik Vos

, Costume design

Ingmar Bergman

, Director

Lenn Hjortzberg

, Assistant director

Jarl Hemmer

, Translation