Sniggel Snuggel / The Three Stupidities
This double bill of Munthe seems to have been the least successful of Bergman's productions at Sagoteatern, which Bergman blames on his use of adult actors in a production meant to be acted by children.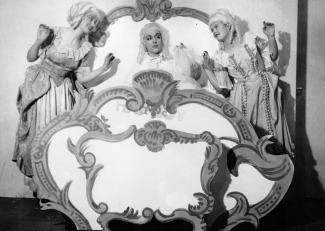 'Whatever the outcome of tonight's experiment, this experience has been a deep source of joy for all of us, and even if we do not overcome the difficulties, we will at least master them.'
About the production
Some children did perform in the production, including Gittan Söderlund, who played an aimable Little Red Riding Hood later the same year.
The motivation behind Bergman's dismal foreword in the programme notes was an apparent fire inspection that the theatre had undergone. This inspection led to restrictions being put on the theatre, including the tearing down of both the props and make-up rooms, and only 10 people being allowed on stage simultaneously. 
Sources
The Ingmar Bergman Archives.
Birgitta Steene, Ingmar Bergman: A Reference Guide (Amsterdam University Press, 2005).
Collaborators
Gösta Jansson

, Troll King(The Three Stupidities) / Benkt (De tre dumheterna)

Bojan Westin

, Sniggel Snuggel (Sniggel Snuggel)/Pelle (The Three Stupidities)

Ingemar Pallin

, Maitre d´hotel in palace (Sniggel snuggel) / Pantless (The Three Stupidities) )

Gertrude Stenberg

, The Magpie Fairy

Karl-Axel Forssberg

, Count Comet Star (Sniggel snuggel) / Old Man Karlsson (The Three Stupidities)

Karin Lannby

, Countess Comet Star(Sniggel snuggel) / Anna (The Three Stupidities)

Sture Persson

, Georg (Sniggel snuggel)

Gunnel Hansson

, Maria (Sniggel snuggel) / Lillan (The Three Stupidities)

Kerstin Berthel

, The Countess (Sniggel Snuggel)

Nancy Dalunde

, The Countess (Sniggel snuggel) / Kerstin (The Three Stupidities)

Gittan Söderlund

, Gärda (Sniggel snuggel)/Lisa (The Three Stupidities)

Torun Munthe

, Author

Rune Ede

, Musical arrangement

Ingmar Bergman

, Director

Gunnar Lindblad

, Designer