[Speech on children's theatre]
Manuscript for a presentation to be held at a conference on cooperation between Sagoteatern and schools in the Stockholm metropolitan area.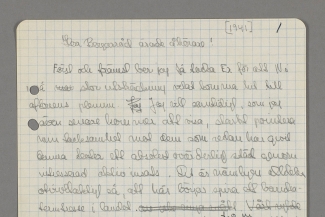 About the text
Bergman describes the schoolchildren's reactions to The Tinder Box by relating some of the essays that students had written about the performance. He reaches the conclusion that the students weren't so much interested in the plot itself as in specific aspects of the play (the witch, in particular). He also takes the opportunity to make an impassioned case for increased resources for children's theatre in the city:
This theatre primarily performs for youth from Södermalm. Of all possible demographics, they have the least money to spare and are the least likely to become habitual theatregoers in the future.  Our production of The Tinder Box has reached 3,234 of these young people. The only right thing would be for the city, Skolteatern, et cetera, to take this theatre under their wing, and start up similar small theatres in every district of the city.
J:008
[8] sheets + Supplements 
Handwritten speech, 1941-10-08 + typewritten copy, 7 sheets + invitation to the conference, 1 sheet.