Swanwhite
The Mäster Olofsgården production of Swanwhite was visited by none other than Harriet Bosse.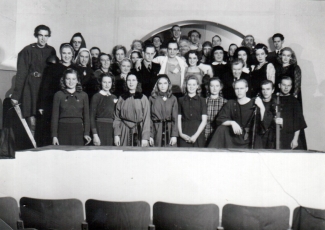 'With its mixture of young love and piety, this fairy-tale piece demands real actors in order for the poetic aura of the cues to do it justice.'
About the production
Strindberg dedicated the play to Harriet Bosse in 1901, and she seemed pleased with Bergman's production. The critics thought it was good for an amateur production, and applauded his efforts. Karin Bergman, Ingmar's mother, wrote the following in her diary.
(Bosse) spoke of the true empathy of the piece. She thanked Ingmar after the production! It was so nobly, so beautifully executed.
The performance was partly hindered by the fact that members of the ensemble were drafted and the premiere was re-scheduled to a later date a number of times.
Sources
The ingmar Bergman Archives.
The Ingmar Bergman Archives.
'Ingmar Bergman proves himself as an amateur director.' 
Helge G Hane, SFP-bladet
Collaborators
Gösta Prützelius

, The young king

Sture Djerf

, The duke

Barbro Hiort af Ornäs

, The step mother

Ingrid Lundgren

, Swanwhite

Börje Andersson

, The prince

Irma Kjellgren

, Signe

Maj Segerstam

, Elsa

Maud Lindberg

, Tova

Rune Bernström

, The fisherman

Margareta Sjögren

, Swanwhite's mother

Ragnhild Wessberg

, The prince's mother

August Strindberg

, Author

Jan-Erik Forsmark

, Musical arrangement

Ingmar Bergman

, Director

Gunnar Lindblad

, Designer