Thieves' Carnival
Bergman was criticised for cutting Jean Anouilh's ending, but the performance as a whole was much appreciated.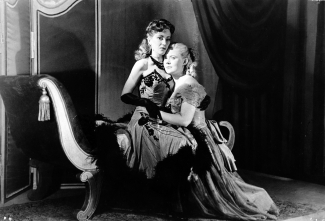 'A most amiable and becoming performance, as if on butterfly wings, aswept in blue, romantic veils.'

Olof Lagercrantz, Svenska Dagbladet
About the production
In the late 1940s Jean Anouilh was one of the most staged and popular dramatists in Scandinavia, which most certainly was one of the reasons why Bergman's altering of the ending received such tough criticism. Ebbe Linde wrote in BLM,
 'The only true objection to this piece is the mutilating of the ending. It is impossible to improve Anouilh's work with such arbitrariness, even if your name is Ingmar Bergman.'  
The following year Bergman staged yet another Anouilh play, The Restless Heart, with Gertrud Fridh in the leading role. 
Sources
The Ingmar Bergman Archives.
Birgitta Steene, Ingmar Bergman: A Reference Guide, (Amsterdam University Press, 2005).
Bergman gained much praise for the performance, in spite of the irritation he caused among the critics by cutting Anouilh's ending. In Dagens Nyheter the reviewer wrote, 'As usual Bergman's direction was perfect'.

Both Gertrud Fridh and Hjördis Petterson were specially mentioned for their moving mimic in the scene where the younger sister's and the thief's love is revealed.
The audience response was enthusiastic and the critics were especially fond of the comic charm and poetic dimensions of the performance. Also the choreography of Ellen Bergman gained much praise.
Collaborators
Harry Ahlin

, Peterbono

Arne Nyberg

, Gustave

Tore Lindwall

, Hector

Yngve Nordwall

, Lord Edgar

Hjördis Petterson

, Lady Hurf

Nine-Christine Jönsson

, Juliette

Gertrud Fridh

, Eve

Semmy Friedmann

, Dupont-Dufort the elder

Folke Sundquist

, Dupont-Dufort the younger

Gordon Löwenadler
Aja Gneiser

, Wet nurse

Ove Tjernberg

, Policeman

Jan von Zweibergk

, Policeman

Lars Barringer

, Policeman

Gunilla Tamm

, The girl

Lorang Landberg

, The musician

Jean Anouilh

, Author

Ellen Bergman

, Choreography

Ingmar Bergman

, Director

Carl-Johan Ström

, Designer