Three Diaries
A compilation of the diaries of Ingmar Bergman, his wife Ingrid and their daughter Maria von Rosen, beginning with Ingrid's cancer diagnosis in 1994 and ending with her death the following year.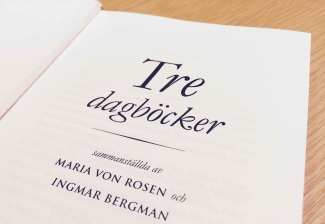 About the text
The book begins with a foreword by both Maria von Rosen and Ingmar Bergman, from which the following is taken:
A few words on the editing of the diaries. They were written in the moment, and were never intended to be read by anyone author than their authors.
Hardly anything has been changed or corrected. Almost everything has been presented exactly as it was written. Nor have we abridged the sections that contain a plodding monotony. They stand in contrast to the upsetting drama that has affected us.

Some may wonder why we have chosen to make such rough and unpolished documents public. The answer is that it has been a part of the grieving process.

We have not attempted to hide or excuse our own shortcomings or our helplessness. This is no literary work, but a document. Not a book, but a testimony.
The first thing that comes to mind when reading this book is why anyone would want to depict the awful happenings that it does – vomiting, severe physical pain, constant visits to the toilet (all described in the book in terms with no attention to grace) – in such an unguarded fashion. Is it acceptable to expose a dying person like this, in the degrading end-stages of dying?

[…]

And a gripping story it makes indeed. Personally, I don't have any moral qualms about releasing the material under the auspices of literature.

[…]

 Bergman's own small contributions to "Three Diaries," however, are not nearly as leaden-footed. It's as if he couldn't so much as pick up a pen without managing to say something imperative about life, regardless if one experiences the whole thing as wisdom or mere affectation. Even the introduction is (as in all of Bergman's literary work) brilliant: here, he describes the family's repudiation of Ingrid's plans to divorce and remarry in 1970. 'Understandable reactions,' states Bergman drily, 'I had been married four times, and had furthermore lived in a number of well-known relationships. While I was undeniably on my way up in my profession, I was also a figure of contention, and was regarded from several directions with suspicion, even open aggression.'

[…]

Regardless, there exists here an underlying and characteristically Bergmanesque striving after self-knowledge, a search that sometimes can become a little too insistent and pathetic for the reader: 'For the record, I am an old and fractured chamber pot, filled to the brim with musty self-pity,' writes Bergman with a sigh. One of the interesting aspects of "Three Diaries" is the way Bergman succeeds in depicting his own daily existence, and his struggle to find an even, even a little boring rhythm in life.
- Erik Hedling in Sydsvenska Dagbladet, 18th of November, 2004
The text is naked, repeating itself as it swings through every type of emotion. It's often objective, quotidian – for with the end in sight, the everyday suddenly becomes imperative. But between the lines, the unspeakable is made clear. Time passes before anyone dares to acknowledge what is really happening.

[…]

Three voices, three experiences, side by side. An exposé, but paradoxically enough, it never feels too private. While reading, this unique personal document additionally functions as a mirror for one's own fears. The impact is doubled.
- Monika Tunbäck-Hansson in Göteborgs-Posten, 1st of November, 2004
Everyone who has experienced the closeness of death in connection with the death of a loved one can see themselves in 'Three Diaries' and the journey through the different phases of crisis. It's painful, sorrowful, but not without a certain consolation, as the book suggests that life goes on. The person who has been affected by the passing of the dead must give up their former self, and new threads must be weaved.
– Anders Schröder in Nerikes Allehanda, 1st of November, 2004
Tre dagböcker, (Norstedts Förlag: Stockholm, 2004). Translated and published in several other languages.