The Tinder Box
Bergman modernised Hans Christian Andersen's tale, using contemporary slang and changing Danish references in the text to places in the Stockholm area. He also removed all the scary elements in the story.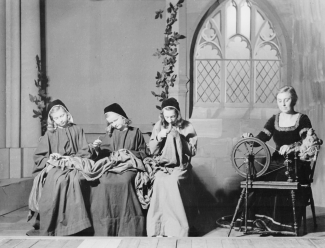 'This production has, frankly, managed to successfully remove not only the three frightening dogs, but also various other parts of the story. Now even the most fearful of children can safely see this play.'

Eva von Zweigbergk, Dagens Nyheter
About the production
Pauline Brunius, the then head of the Royal Dramatic Theatre, attended the premiere. Bergman introduced the play, requesting his audience to witness the production through a child's eyes. 
Bergman's new theatre project received positive publicity but there were some objections to the production itself for changing Andersen's original tale, tampering with a classic and universal text.
Sources
The Ingmar Bergman Archives.
Henrik Sjögren, Lek och raseri: Ingmar Bergmans teater 1938-2002, (Stockholm: Carlssons Bokförlag 2002).
Collaborators
Bertil Sjödin

, The Soldier

Karl-Axel Forssberg

, The King

Martha Olsson

, The Queen

Blenda Bruno

, The Princess

Karin Lannby

, The Witch

Bo Lindström

, The Inn keeper

Irma Kellgren

, Shoeshine Boy

Rune Bernström

, The Tailor

Olov Källman

, Court Marshal

Anastasia

, Lady of the Court

Adèle Lundwall

, Lady of the Court

Maud Lindberg

, Lady of the Court

Ragnhild Wessberg

, Lady of the Court

Greta Wranér

, Dramaturgy

H C Andersen

, Author

Rune Ede

, Musical arrangement

Ingmar Bergman

, Director

Gunnar Lindblad

, Master carpenter

Sven Erixson

, Designer