When the Devil Makes an Offer
On the opening night of Soya's play, film producer Carl Anders Dymling and film director Victor Sjöström sat in the front row; Bergman had just been hired at their company, Svensk Filmindustri.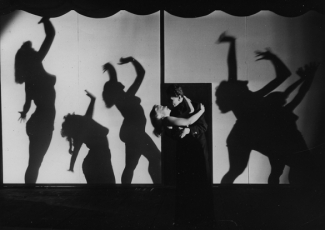 'If you want to see something truly interesting right now and need to have your faith restored that Thalia still lives, it is clearly to the Student Theatre you must go.'

Nils Beyer, Social-Demokraten
Reviews and comments
The credit must go, above all, to the principal director of this small academic amateur theatre - one of the most remarkable young directing talents we have in this country at the moment - Ingmar Bergman.
- Nils Beyer, Social-Demokraten
Sources
The Ingmar Bergman Archives.
Collaborators
Rolf Alexanderson

, Dr. Paprika

Per-Johan Östberg
Bertil Sjödin

, Hans Christian

Annika Tretow

, Mary

Sture Ericson

, The Prisoner

Sture Djerf

, Rasmussen

Marianne Lindgren

, Mrs Rasmussen

Karl-Axel Forssberg
Astrid Söderbaum

, Lilian

Lars-Erik Löfman
Claes Esphagen

, Rolf Bluebeard

Signe Claesson

, The Virgin Mary

Margareta Sjögren

, The gray

Erland Josephson

, The Professor

Palle Granditsky

, The monkey

Inga Gill

, Prostitute

Carl Erik Soya

, Author

Ingmar Bergman

, Director

Gunnar Lindblad

, Designer